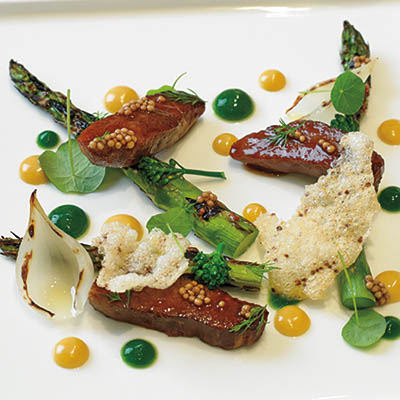 BRAISED PORK CHEEK WITH GRILLED ASPARAGUS
Ingredients
Serves 2
¾ cup (175 ml) each of kosher salt and granulated sugar
1 cup (250 ml) boiling water
1 tsp (5 ml) whole black peppercorns
BRAISED PORK CHEEK AND ASPARAGUS:
1 lb (500 g) fresh, natural fed pork cheek, cleaned of all silver skin
2 tsp + 1 tbsp (10 ml + 15 ml) olive oil, divided
¼ cup (60 ml) all-purpose flour
½ cup (125 ml) medium-diced onion
¼ cup (60 ml) medium-diced carrot
¼ cup (60 ml) medium-diced celery
4 cups (1 L) ham or chicken stock
16 large asparagus spears, trimmed
fresh herbs, such as nasturtium, for garnish
Mustard Dressing, for dotting plate (optional)
2 tbsp (30 ml) Dijon mustard
2 oz (60 ml) extra-virgin olive oil
1 dash of rice wine vinegar
Instructions
To make PORK BRINE: Combine kosher salt and granulated sugar in a container large enough to hold 5 cups (1.25 L) of liquid and 1 lb (500 g) of meat. Add 1 cup (250 ml) boiling water to dissolve salt and sugar. Add peppercorns, bay leaves, sprigs of thyme, star anise and garlic. Add remaining cold water to yield 5 cups (1.25 L) total and stir in. Chill brine before adding pork. Cover tightly and refrigerate for 12 hours.
Brine cheeks overnight, then remove from brine and place on a towel. Let dry in fridge for minimum 1 hour.
Preheat oven to 285 F (140 C). Heat 2 tsp (10 ml) olive oil in a medium ovenproof saucepan. Lightly dust pork cheek with flour and brown gently, remove meat and add diced vegetables and garlic and sweat over medium heat just until softened, a couple of minutes. Add ham or chicken stock and deglaze pan.
Add pork cheeks to stock. Cover and slow braise in oven for about 1½ hours or until pork is tender. Remove from oven and allow meat to cool in stock. Then remove meat and pat dry with paper towel.
Strain stock and return to saucepan. Bring to a boil and cook over medium heat until reduced to about 1 cup (250 ml) and thickened to a glazing consistency, about 30 minutes. Taste and add a splash of sherry vinegar, to taste.
To make MUSTARD DRESSING: Whisk together egg yolk and Dijon mustard, while streaming in extra-virgin olive oil. When thickened add a dash of rice wine vinegar and salt, to taste.
Shortly before serving preheat grill and oil trimmed asparagus with 1 tbsp (15 ml) oil and season with salt and pepper.
Add cheeks to reduced glaze and warm through.
Meanwhile, grill asparagus lightly on preheated grill. Remove and brush lightly with grainy mustard.
Serve pork cheeks with grilled asparagus alongside and a little extra reduced glaze drizzled over top. Finish plate with dollops of Mustard Dressing on plate, if desired.
Drink Pairings