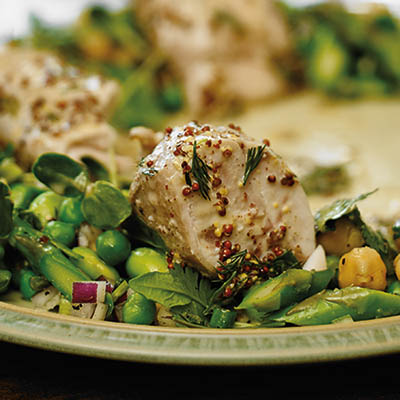 BRAISED RABBIT WITH MUSTARD SAUCE AND SPRING SUCCOTASH
Ingredients
Serves 4
BRAISED RABBIT WITH MUSTARD SAUCE:
3 lb (1.5 kg) whole rabbit, cut into 6 pieces
1 tsp (5 ml) black pepper
3 to 4 tbsp (45 to 60 ml) vegetable oil
2 medium-sized yellow onions, finely chopped
2 medium-sized carrots, peeled, finely chopped
3 large garlic cloves, roughly chopped
1 tbsp (15 ml) finely chopped fresh rosemary
2 cups (500 ml) dry white wine
1¾ cups (475 ml) chicken broth or stock, heated
¼ cup (60 ml) Dijon mustard
¼ cup (60 ml) whole-grain mustard
4 tbsp (60 ml) cold, unsalted butter, diced
extra-virgin olive oil, to grease pan
½ red onion, finely diced
1 cup (250 ml) chicken broth or stock
½ bunch asparagus, trimmed and cut into small pieces
½ cup (125 ml) fava beans, peeled, or edamame beans
1 cup (250 ml) canned chickpeas, rinsed and drained
1 cup (250 ml) sweet green peas
4 green onions, trimmed and sliced
2 tbsp (30 ml) chopped Italian parsley
6 sprigs fresh basil, stemmed and leaves torn
2 sprigs fresh tarragon, stemmed and leaves removed
salt and freshly ground pepper, to taste
Instructions
Rinse rabbit and trim fat. Pat dry. Season with salt and pepper.
Preheat oven to 350 F (180 C). Heat a large, heavy-bottomed frying pan over medium-high heat until hot. Add 3 tbsp (45 ml) oil to pan and brown rabbit on all sides, about 5 minutes total. Transfer browned rabbit to a roasting pan large enough to hold pieces in a snug, but single layer. Repeat with remaining rabbit.
In the same frying pan, sweat onions, carrots and garlic until softened. Add thyme and bay leaves. Deglaze pan with white wine, stirring up the brown bits from bottom of pan. Bring to a boil. Pour mixture over rabbit. Pour heated chicken broth over top. Cover with tight-fitting lid and bake for 45 to 55 minutes.
While rabbit cooks, make Spring Succotash. Add a little oil to a 12-in (30 cm) heavy-bottomed saucepan and place over medium-high heat. Add onion and sweat for 2 to 3 minutes until softened. Do not brown. Deglaze with white wine and boil vigorously until reduced by half. Add chicken broth or stock.
Add asparagus, fava beans, chickpeas and sweet peas. Cook through, about 3 to 4 minutes. Once liquid is reduced as desired, add green onions, herbs, lemon zest and juice and a splash of olive oil. Add salt and pepper to taste. Refrigerate until ready to serve.
When rabbit is fork tender, remove from oven and set aside. In a medium-sized saucepan, sweat rosemary in 1 tbsp (15 ml) oil for 1 minute. Strain the braising liquid from rabbit into saucepan and simmer, until reduced by half. Whisk in mustard until blended. Whisk in butter, a little at a time, until smooth. Remove from heat.
To serve, divide succotash among serving plates. Top with carved rabbit slices and dollop mustard sauce over rabbit.
Drink Pairings