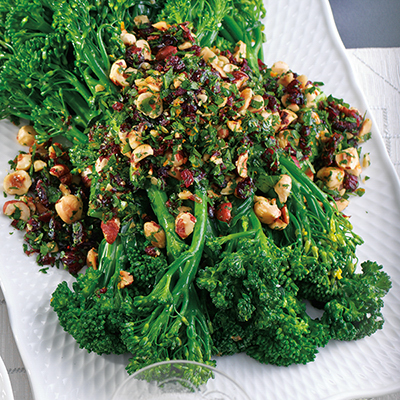 BROCCOLINI WITH CRANBERRY GREMOLATA
Ingredients
Serves 8 to 10
¼ cup (60 ml) whole hazelnuts
¼ cup (60 ml) sweetened dried cranberries, roughly chopped
3 tbsp (45 ml) chopped flat leaf parsley
½ tsp (2.5 ml) orange zest
1½ lbs (750 g) broccolini
1 tbsp (15 ml) grapeseed oil
2 tbsp (30 ml) orange juice
Instructions
In a large frying pan over medium heat, toast hazelnuts stirring frequently, until lightly browned and fragrant, about 8 to 10 minutes. Transfer to a clean tea towel, wrap nuts and rub together until most of hazelnut skins come off. Pick out hazelnuts, discard skins and roughly chop. Place in a medium bowl and toss with cranberries, parsley, orange zest and salt. Set aside.
Bring a large pot of salted water to a boil over high heat. Add broccolini and cook until bright green, about 1 to 2 minutes. Immediately transfer to a large bowl of ice water to cool before draining.
Place frying pan back over mediumhigh heat, add oil, orange juice, garlic and a pinch of salt. Bring to a boil and cook, stirring constantly, for 1 minute. Add broccolini and sauté until tender-crisp, about 5 to 8 minutes. Transfer to a serving platter and spoon cranberry mixture overtop. Serve while warm.
Drink Pairings