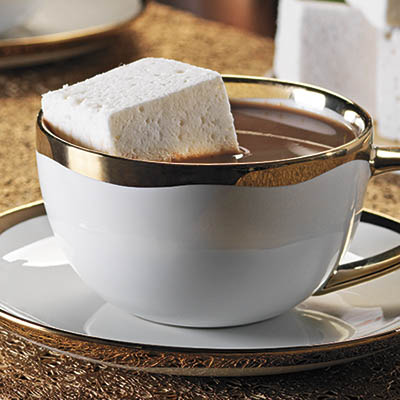 BROWN BUTTER AND SAGE MARSHMALLOWS WITH PUMPKIN HOT CHOCOLATE
Ingredients
Serves 4 with marshmallows to spare
½ cup (125 ml) unsalted butter
vegetable oil, for greasing pan
2 cups (500 ml) water, divided
½ tsp (2 ml) vanilla extract
6 × ¼ oz (7 g) packages unflavoured powdered gelatin
2 tbsp (30 ml) chopped fresh sage
28 oz (840 g) granulated sugar, about 4 cups (1L)
1 cup (250 ml) clear corn syrup
ADULT PUMPKIN HOT CHOCOLATE:
¼ cup (60 ml) each lightly packed light brown sugar and cocoa powder
2 tsp (10 ml) arrowroot starch or cornstarch
4 cups (1 L) skim milk or unsweetened almond milk
¼ tsp (1 ml) vanilla extract
⅔ cup (150 ml) pumpkin purée
Spicebox Spiced Whisky or Forty Creek Cream, to taste (optional)
Instructions
To make MARSHMALLOWS: Melt butter in a medium-sized saucepan over medium heat. Cook, stirring occasionally, until butter starts to change colour to a golden brown, about 8 to 10 minutes. Transfer to a heatproof bowl and let cool to room temperature.
Lightly grease a 9 x 13-in (23 x 33 cm) pan with vegetable oil and set aside.
Stir together 1 cup (250 ml) water and vanilla in a bowl of an electric stand mixer fitted with a whisk attachment. Sprinkle gelatin over and set aside.
In a food processor, pulse together sage with sugar until sage is very finely chopped.
In a medium-sized, heavy-bottomed saucepan, combine sage-sugar, salt, corn syrup and remaining 1 cup (250 ml) water. Cook over medium heat, gently stirring constantly, until sugar dissolves. Raise heat to medium-high, and bring to a boil. Allow syrup to boil, without stirring, until it registers 240 F (115 C) on candy thermometer. Remove pot from heat and let syrup stand until it cools to 210 F (99 C).
Once sugar mixture has cooled, pour into mixing bowl with gelatin mixture. With whisk attachment, whip on medium speed until more than doubled in size, about 8 minutes.
Add brown butter, 1 tbsp (15 ml) at a time, waiting until incorporated before adding next spoonful. Add browned bits of milk solids as well. Once all butter has been added, turn up speed to high for a few moments to ensure it's well incorporated. Pour marshmallow mixture into prepared pan. Lift and firmly tap pan on work surface a few times to dislodge air bubbles. Place 2 tbsp (30 ml) icing sugar in a fine mesh sieve and generously dust top of marshmallow. Cover with plastic wrap and refrigerate marshmallow allowing them to firm overnight.
Generously dust work surface with icing sugar. Remove plastic wrap and invert marshmallow top down on work surface. Dust exposed bottom of marshmallow generously with more icing sugar. Oil a sharp knife or pizza cutter and cut marshmallow into 1-in (2.5 cm) strips. Cut each strip at 1-in (2.5 cm) increments. Toss marshmallows with more icing sugar to prevent from sticking. Store in an airtight container at room temperature for up to 2 weeks or in refrigerator for up to 1 month.
When ready to enjoy marshmallows, make ADULT PUMPKIN HOT CHOCOLATE: In a small bowl whisk together brown sugar, cocoa powder, starch and salt.
Whisk together milk, vanilla extract and pumpkin purée in a medium saucepan over medium heat, whisking occasionally, until steaming.
Add 2 tbsp (30 ml) warm milk mixture to cocoa mixture and whisk until smooth. Whisk cocoa mixture into milk in saucepan, bring to a simmer and let cook, whisking occasionally, for 5 minutes. Hot chocolate should thicken up slightly.
To serve, divide hot chocolate among serving mugs. If desired, add a dash of spiced whisky or cream liqueur to each mug and top with 2 marshmallows and enjoy warm.
Featuring