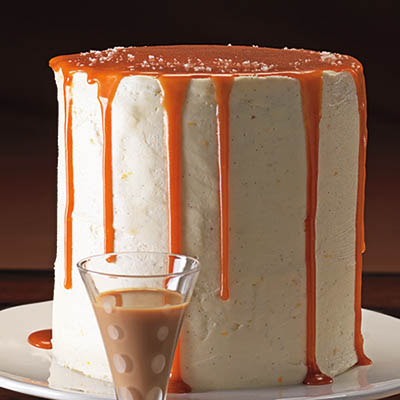 BROWN BUTTER AND SALTED CARAMEL LAYER CAKE
Ingredients
Serves 8
1 cup+6 tbsp (340 ml) salted butter, plus extra for greasing
2½ cups (625 ml) all-purpose flour
4 tsp (20 ml) baking powder
¼ tsp (1 ml) almond extract, optional
1 tsp (5 ml) vanilla extract
1½ cups (375 ml) granulated sugar
1¾ cups (425 ml) salted butter, at room temperature
5 cups (1¼ L) icing sugar
½ tsp (2 ml) grated tangerine zest
1 vanilla bean, split lengthwise, seeds scraped out
1 cup (250 ml) granulated sugar
1 tsp (5 ml) clear corn syrup
7 tbsp (105 ml) salted butter
⅓ cup (75 ml) whipping cream
1 tsp (5 ml) flaky sea salt, plus extra for garnish
Instructions
Melt butter in a medium-sized saucepan over medium heat. Cook, stirring occasionally, until butter starts to change colour to a golden brown, about 8 to 10 minutes. Remove from heat and pour into a bowl along with any caramelized brown bits. Refrigerate until solidified, about 1 hour. Allow butter to come to room temperature before proceeding.
Arrange oven racks in upper and lower third of oven before preheating to 350 F (180 C). Grease 4 round 6-in (15 cm) cake pans and line bottoms with parchment paper.
To make CAKES: In a medium bowl, whisk together flour and baking powder. Set aside.
In a glass measuring cup, stir together milk, almond extract, if using, and vanilla extract. Set aside.
In electric stand mixer fitted with paddle attachment, cream together browned butter and sugar on medium speed until fluffy and pale, about 5 minutes. Add eggs, one at a time, beating well to incorporate each before adding next one. Alternate adding flour mixture (in four additions) and milk mixture (in three additions) beginning and ending with flour. Stir until smooth, occasionally scraping down sides of bowl. Divide cake batter evenly among prepared tins and spread out evenly with a spatula. Bake, rotating halfway through cooking time, until cakes are golden brown and a wooden skewer inserted in the centre comes out clean, about 30 to 35 minutes. Allow cakes to cool in tins on a wire rack for 15 minutes before carefully turning out onto rack and cooling completely. Once cooled, cake layers may be wrapped tightly in plastic wrap and refrigerated for up to 2 days.
When ready to assemble cake, make Vanilla Citrus Icing. Place salted butter in bowl of an electric stand mixer fitted with paddle attachment. Beat on medium-high speed until fluffy and pale, about 5 minutes. Turn mixer to low speed and gradually add icing sugar until well incorporated. Add milk, tangerine zest and vanilla bean seeds and beat on medium speed until incorporated. Increase mixer to high speed for 2 minutes and continue to beat until pale and fluffy.
Place first layer of cake on a serving plate or cake stand and spread with 1⁄2 cup (125 ml) icing over top of cake in an even layer with a spatula. Sandwich icing with another layer of cake and repeat icing remaining cake layers. Thinly crumb-coat outside and top of cake with about 1 cup (250 ml) of icing. Place cake in refrigerator to chill for 1 hour. Cover remaining icing with plastic wrap and set aside at room temperature while cake chills.
Make SALTED CARAMEL DRIZZLE: Place sugar, water and corn syrup in a heavy- bottomed, medium-sized saucepan and place over medium heat. Bring to a boil and stir gently until sugar dissolves. Continue cooking, without stirring, until mixture starts to turn golden brown. At this point, you may swirl saucepan occasionally to prevent bottom from burning. When mixture turns a dark golden brown, orreaches350F(180C)onasugar thermometer, whisk in butter all at once. Take care as mixture will bubble up. Once butter has been incorporated, whisk in cream, taking care as mixture might bubble up again. Whisk over heat until smooth. Transfertoaheatproofbowl,stirinsalt and allow to cool to room temperature.
Cover cake with remaining icing and chill again for at least another hour.
Pour caramel over top of chilled cake, allowingittodripoverthesides.Return cake to refrigerator for at least 30 minutes to set caramel.
Remove cake from fridge at least 30 minutes before serving. Garnish with a light sprinkle of sea salt over top before slicing and serving.
Drink Pairings