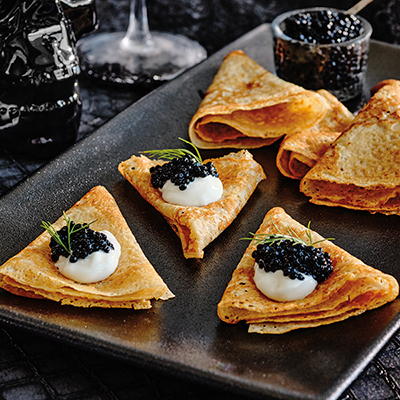 Brown Butter Crepes with Caviar
Ingredients
Serves 8
¼ cup (60 ml) unsalted butter
½ cup (125 ml) all-purpose flour
¼ tsp (1 ml) fine sea salt
1 cup (250 ml) whole milk, plus extra as needed
½ cup (125 ml) crème fraîche, for garnish
1 to 2 oz (30 to 60 g) caviar, for garnish
Instructions
In a small frying pan, melt butter over medium heat. Cook, stirring occasionally, until butter starts to turn golden brown, about 4 to 8 minutes. Transfer browned butter to a heatproof bowl and set aside so it cools but still remains liquid, about 20 minutes.
In a blender, combine eggs, flours, salt, whole milk and 2 tbsp (30 ml) browned butter and blend until thoroughly combined. Reserve extra browned butter for another use. Transfer crêpe batter to a bowl, cover and let rest in refrigerator for at least 2 hours, or up to overnight. Batter should be the consistency of heavy cream; if not, stir in more milk, 1 to 2 tbsp (15 to 30 ml) at a time until correct consistency is achieved.
Heat a 7-in (18 cm) non-stick frying pan over medium-high heat. When hot, ladle in enough batter to coat pan, tilt until even, then cook for about 1 minute. Crêpe is ready to flip when bubbles appear on surface and edges look dry. Flip with a spatula and cook for 1 more minute. Transfer to a plate and cover with a tea towel. Repeat with remaining batter. You should end up with about 16 crêpes. At this point, crêpes may be wrapped in parchment paper and then plastic wrap, and refrigerated for up to 4 days, or frozen for up to 1 month. Let crêpes come to room temperature before serving.
When ready to serve, fold crêpes as desired and top with a dollop of crème fraîche and caviar. Transfer to a platter and serve.
Drink Pairings