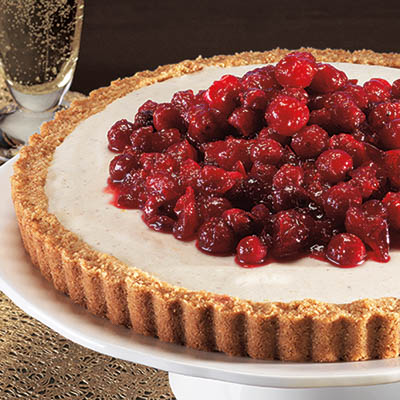 BROWN BUTTER CUSTARD TART WITH CRANBERRY TOPPING
Ingredients
Serves 10
¾ cup (175 ml) unsalted butter, plus extra for greasing tart pan
2 cups (500 ml) vanilla wafer crumbs
½ tsp (2 ml) salt, divided
2 tsp (10 ml) unflavoured gelatin
1 cup (250 ml) whole milk
⅓ cup (75 ml) light brown sugar
¼ tsp (1 ml) finely grated orange zest
¾ cup (175 ml) whipping cream
1 cup (250 ml) granulated sugar
3½ cups (875 ml) fresh or frozen cranberries
½ vanilla bean, split lengthwise
Instructions
Preheat oven to 350 F (180 C). To make TART SHELL: In a small saucepan, melt butterovermediumheat.Cook,stirring occasionally, until butter starts to change colour to a golden brown, about 8 to 10 minutes. Strain butter through a fine mesh sieve into a glass measuring cup or bowl. Reserve browned butter solids.
In a medium bowl, stir together vanilla wafer crumbs, 1⁄2 cup (125 ml) of reserved melted butter and 1⁄4 tsp (1 ml) salt. Grease a 9-in (23 cm) fluted tart pan with extra butter before pressing crumb mixture into bottom and up sides. Save any remaining butter for another use. Refrigerate tart shell for 30 minutes.
Place chilled tart shell on a baking sheet and bake until firm and golden brown, about 12 to 14 minutes. Set aside on a wire rack to cool completely.
While tart shell cools, start preparing Brown Butter Custard. In a small bowl sprinkle gelatin over water and set aside to bloom for 4 minutes. Meanwhile, in a medium-sized saucepan, bring milk, brown sugar, cinnamon, reserved brown butter solids and remaining 1⁄4 tsp (1 ml) salt to a simmer over medium heat. Whisk in gelatin and orange zest stirring until gelatin is dissolved. Transfer to a bowl and refrigerate until set, about 3 hours.
In a large bowl, whisk together whipping cream and sour cream to stiff peaks. Whisk prepared brown butter custard to loosen it before folding it into whipped cream mixture. Pour mixture into cooled tart shell and refrigerate for at least 1 hour, up to 8 hours.
While tart is chilling, make CRANBERRY TOPPING: In a medium-sized saucepan, combine sugar with cranberries, water and vanilla bean. Bring to a simmer over medium-high heat and cook until cranberries have just split and sugar is dissolved, about 4 minutes. Transfer cranberry mixture to a bowl and refrigerate until cool, about 1 hour. Remove and discard vanilla bean.
Just before serving, using a slotted spoon, arrange cranberries on tart along with some of cranberry liquid. Discard remaining liquid. Cut tart into wedges and serve chilled.
Drink Pairings