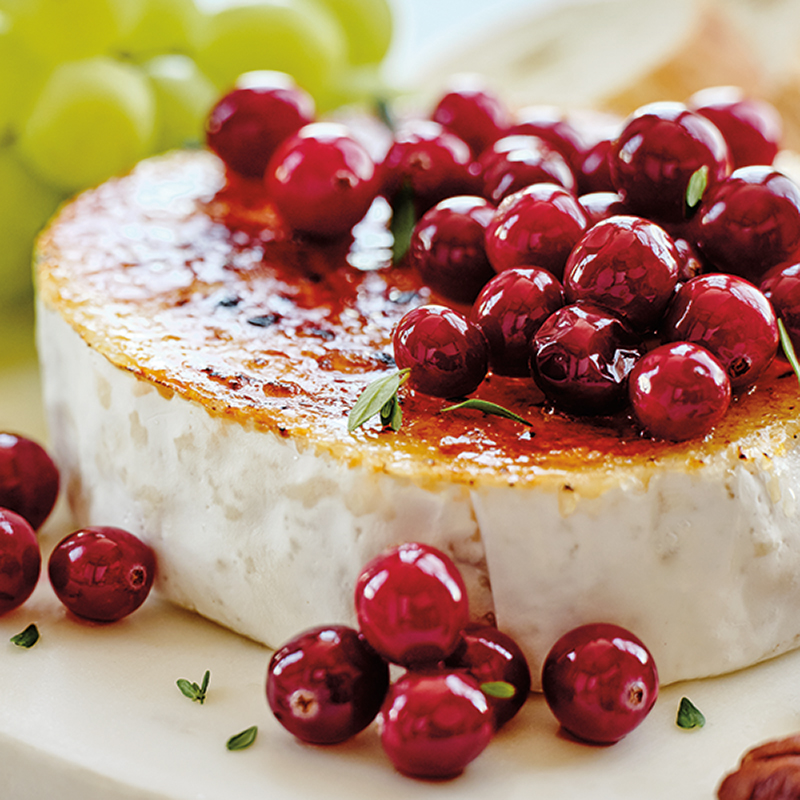 Brûlée Brie with Bourbon-Kissed Cranberries
While we all know and love a good crème brûlée, there is so much more that we can do with the simple brûlée cooking technique. Take your brie to new levels with a brûléed treatment and garnished with delicious bourbon-kissed cranberries.
Ingredients
Serves 4
½ cup (125 ml) granulated sugar, plus extra to brûlée brie
¼ cup (60 ml) Four Roses Bourbon
2 cups (500 ml) fresh cranberries
1 wheel (200 g) double cream brie cheese
baguette slices, for serving
fruits and nuts, for serving
Instructions
To make bourbon-kissed cranberries, in a small saucepan, bring ½ cup (125 ml) each sugar and water to a simmer over medium-high heat, stirring constantly. Once mixture reaches a simmer and sugar has dissolved, stir in bourbon and remove saucepan from heat.
Transfer cranberries to a sealable container and pour warm sugar mixture over berries. Cover and refrigerate for at least 2 hours or up to 24 hours, stirring occasionally.
To make brûlée brie, cut off rind from top of brie wheel. Sprinkle a generous, even layer of sugar on top of cheese. Take a brûlée torch to sugar layer and wave it across sections until sugar is melted and nicely browned. Repeat with another 2 to 3 layers of sugar for a thicker sugar crust, if desired.
To serve, transfer cheese to a serving platter or board and top with bourbon-kissed cranberries. Garnish platter with baguette slices, sliced seasonal fruits and nuts. Serve immediately.
Drink Pairings