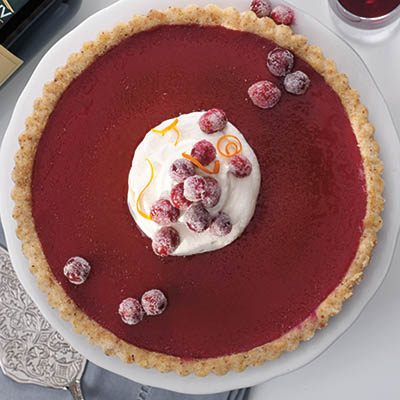 Ingredients
Serves 8
1¼ cups (310 ml) raw walnut halves or walnut pieces
1 cup (250 ml) white rice flour
6 tbsp (90 ml) unsalted butter, softened
½ cup (125 ml) granulated sugar
12 oz (340 g) fresh cranberries
1 cup (250 ml) granulated sugar
¼ cup (60 ml) orange juice
½ vanilla bean, split in half
½ cup (125 ml) unsalted butter, cut into cubes
½ cup (125 ml) granulated sugar, plus extra for coating
1½ cups (375 ml) fresh cranberries
½ cup (125 ml) whipping cream
½ tsp (2 ml) vanilla extract
2 tbsp (30 ml) icing sugar, sifted
2 tbsp (30 ml) granulated sugar
Instructions
To make WALNUT CRUST: Heat oven to 350 F (180 C). In a food processor, grind walnuts with half the rice flour until mixture resembles coarse cornmeal. Add remaining rice flour and salt and pulse 4 times. In a medium-sized bowl, cream butter and sugar together with a wooden spoon for a couple of minutes until pale and thick. Add nut mixture and stir until dough comes together. If it seems crumbly, add some cold water, 1 tsp (5 ml) at a time, making sure not to exceed 2 tbsp (30 ml) total. Press dough evenly into a 10-in (25 cm) fluted tart pan. Prick bottom of crust with a fork and freeze for 30 minutes or up to several days if desired. Bake chilled tart shell until lightly browned, about 15 minutes. Cool at room temperature on a wire rack.
To make CRANBERRY FILLING: Place cranberries, sugar, orange juice and zest and vanilla bean in a medium-sized saucepan over medium heat. Bring to a simmer and cook until cranberries have popped and softened, about 10 minutes. Transfer to a sieve set over a bowl, use a rubber spatula and press cranberry liquid into bowl. Whisk butter into warm cranberry liquid.
Place eggs and egg yolks in a large bowl and whisk lightly. Slowly whisk a cup of warm cranberry mixture into eggs to temper, then add remaining cranberry mixture and whisk to combine.
Return cranberry mixture to saucepan and cook, stirring constantly with a wooden spoon over low heat until just bubbling and thickened, about 10 minutes. Strain through a fine-meshed sieve into a non-reactive bowl. Cool to room temperature. If not using right away, cover filling with plastic wrap, pressing wrap onto surface of filling to prevent a skin from forming, and refrigerate. Filling may be made up to 1 day ahead and refrigerated until ready to use.
Preheat oven to 350 F (180 C). Pour cooled cranberry filling into prebaked tart shell and smooth top with a spatula. Bake for 10 minutes to set filling. Cool on a wire rack at room temperature. Tart may be stored, lightly covered with plastic wrap at room temperature for up to 2 days.
To make SPARKLING CRANBERRIES: Place cranberries in a medium-sized bowl.
In a small saucepan, stir together sugar and water over mediumhigh heat until simmering and sugar has dissolved. Remove saucepan from heat and cool mixture until warm to the touch. Pour over cranberries. Cover bowl with plastic wrap and refrigerate overnight.
Using a slotted spoon, remove berries from syrup and place on a wire cooling rack with a piece of parchment paper placed underneath. Spread berries so they are not touching each other and let dry for 1 hour at room temperature.
Working in batches, roll a handful of berries at a time in extra granulated sugar to coat. Place sugared cranberries on a parchmentlined baking sheet and continue coating remaining berries. Let cranberries dry for two hours at room temperature before using. Cranberries may be stored in an airtight container at room temperature for 2 days. Makes 1½ cups (375 ml).
To make GARNISH: In a chilled bowl, whip cream until soft peaks form, about 4 minutes. Add vanilla extract and icing sugar and continue to whip until stiff peaks form. Sprinkle granulated sugar evenly over top of tart, leaving a ½-in (1.25 cm) border. Let stand for 5 minutes.
Using a blowtorch and holding flame at least ½-in (1 cm) from surface, move flame back and forth over sugar until bubbling and dark amber. Let stand for 5 minutes before dolloping whipped cream in centre of tart and topping with Sparkling Cranberries and curls of orange zest. Serve immediately.
Drink Pairings