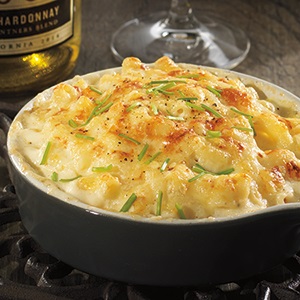 BUBBLY BEER MACARONI AND CHEESE
Ingredients
Serves 4
½ medium onion, finely chopped
½ tsp (2 ml) black pepper
¼ cup (60 ml) stout or porter beer
½ cup (125 ml) whipping cream
½ cup (125 ml) whole milk
1 cup (250 ml) cream cheese
1 cup (250 ml) shredded mozzarella cheese
½ cup (125 ml) shredded aged cheddar cheese
2 cups (500 ml) dry elbow macaroni
Instructions
Preheat oven to 375 F (190 C).
In a medium saucepan, melt butter over medium heat, add onion and garlic and sauté until soft. Add dry mustard, salt and pepper and stir in to blend.
Add beer and bring to a boil over high heat. Turn down heat to medium and simmer for about 5 minutes. Add cream, milk and cream cheese and stir until melted.
Mix mozzarella and cheddar cheese together. Add ¾ of cheese mixture to pot and stir until just melted. Set remaining cheese aside.
Meanwhile, add macaroni to a large pot of boiling salted water and cook according to package instructions. Thoroughly drain macaroni once cooked and add to cheese sauce. Fold in to evenly blend.
Spoon into 4 individual greased ovenproof baking dishes large enough to contain macaroni and cheese. Sprinkle with remaining cheese.
Bake in preheated oven for about 15 minutes, or until cheese is melted and sauce bubbles.
Drink Pairings