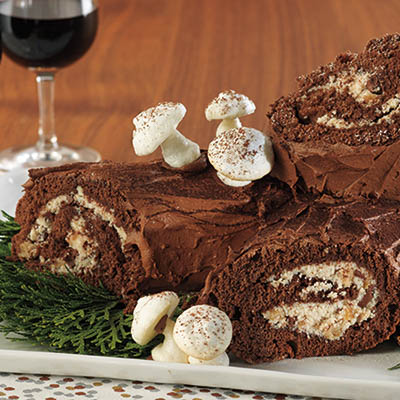 Ingredients
Serves 8 to 10
1½ lbs (750 g) ricotta cheese
½ cup (125 ml) candied orange peel, finely chopped
3 oz (90 ml) semi-sweet chocolate, finely chopped
6 tbsp (90 ml) icing sugar
¼ cup (60 ml) orange liqueur
1½ oz (45 ml) semi-sweet chocolate, chopped
2 cups (500 ml) whipping cream
8 oz (250 g) semi-sweet or bittersweet chocolate, finely chopped
2 tbsp (30 ml) instant coffee
Instructions
To make RICOTTA FILLING: Combine all ingredients in a bowl, and mix well. Set aside. Allow to soften enough to spread.
To make MERINGUE MUSHROOMS: Preheat oven to 225 F (105 C). Line a baking sheet with parchment paper. In a large bowl, beat egg whites with salt on high speed until soft peaks form. Continue whipping, adding sugar 1 tbsp (15 ml) at a time, until meringue is very stiff and glossy. Transfer meringue to a pastry bag fitted with a ½-in (1.25 cm) plain tip then pipe 20-22 mushroom "caps" in 1-in (2.5 cm) mounds. Smooth tops of the round mushroom caps with a finger dipped in water. Pipe the same number of "stems" by making a base that's slightly thicker, tapering the meringue as you pull the bag straight up, leaving a pointed top. Bake for 1½ hours. Let cool completely.
To assemble, with a sharp paring knife, carve a small hole in the underside of each mushroom cap, large enough to fit the points of the stems. Melt chocolate. Dip the pointed tips of the stems into the chocolate and press each one into the hole on the underside of the caps. Set on a baking rack to cool. Transfer to an airtight container until ready to use.
To make WHIPPED MOCHA GANACHE: In a saucepan, heat cream over medium-high heat until it simmers. Remove from heat, add chocolate and coffee and stir until partially melted. Let stand 15 minutes to complete melting. Stir mixture again until smooth. Let cool. Cover surface of chocolate mixture with waxed paper or plastic wrap to prevent skin from forming. Refrigerate until extremely cold, preferably overnight. When ready to compile buche, beat with an electric mixture until medium-stiff peaks form. Do not overbeat, as ganache stiffens considerably when beaten, must be spread immediately.
To make CHOCOLATE GÉNOISE: Preheat oven to 400 F (200 C) and set rack in the middle of the oven. Butter and line a 10 x 15-in (25 x 38 cm) jelly roll pan.
Half fill a medium saucepan with water and bring to a boil over high heat. Lower to simmer. Whisk together eggs, yolks, salt and sugar in bowl of an electric mixer. Place over pan of simmering water and whisk gently until mixture is just lukewarm, about 100 F (38 C). Whip on mediumhigh speed until the egg mixture is cooled and tripled in volume.
Sift together flour, cornstarch and cocoa. Sift ⅓ of the flour mixture over beaten eggs. Gently fold in flour mixture, repeat with another third of flour mixture and finally with the remainder.
Scrape batter into prepared pan. Bake for 10 to 12 minutes, or until well risen, and springs back when touched. Do not overbake. Use a paring knife to loosen cake from the sides of pan. Invert cake onto a baking rack and let cake cool right-side up on the paper. Turn the génoise layer over and peel away the paper. Invert onto a fresh piece of parchment paper.
Gently spread the softened ricotta filling, leaving a 1-in (2.5 cm) edge on each of the longer edges. Use the paper to help roll the cake into a tight cylinder. Wrap with plastic wrap, transfer to a baking sheet and refrigerate at least 1 hour before icing and decorating the outside. This can be done the day before.
Trim off both ends of the cylinder of cake, making about 2-in (5 cm) diagonal slices. Set the long centre section on a serving plate or tray, and place one of the cut pieces with the diagonal end against the cake and the flat end facing up. Attach the second piece to the other side. Ice and cover the "log" with whipped ganache, making sure to curve around the protruding stumps. Streak the ganache with a fork or decorating comb to resemble bark. Dust with cocoa. Arrange mushrooms around the cake.
Drink Pairings