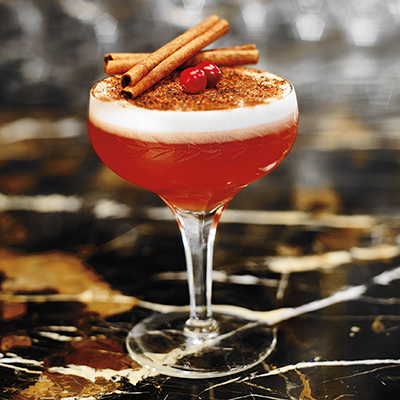 Ingredients
Serves 1
1½ oz (45 ml) cinnamon-infused Jim Beam
1 oz (30 ml) cranberry-orange simple syrup
cinnamon and sugar, to dust top
cinnamon sticks and cranberries, for garnish
Instructions
Place 2 cinnamon sticks into Jim Beam bottle. Let infuse overnight.
Combine all ingredients in a mixing glass (except cinnamon and sugar) and shake without ice. Add ice and shake again after egg white has been emulsified. Fine strain into a coupe glass. Dust top with cinnamon- sugar mixture and, using a kitchen torch, carefully brûlée top of drink. Garnish with cinnamon sticks and cranberries, if desired.
To make SIMPLE SYRUP: In a saucepan over low heat, mix together equal parts sugar to water to cranberry juice and add zest of 1 orange. Remove zest and allow mixture to cool before using.
Featuring