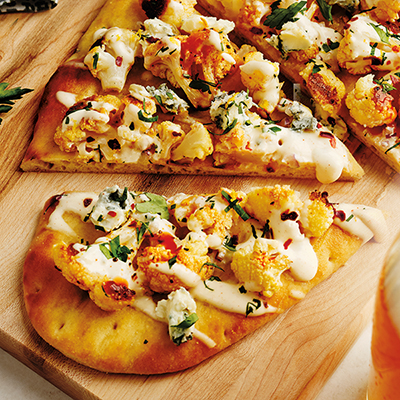 BUFFALO CAULIFLOWER AND BLUE CHEESE FLATBREAD
Ingredients
Serves 2
3 tbsp (45 ml) extra-virgin olive oil
1 tsp (5 ml) onion powder
1 tsp (5 ml) garlic powder
2 tsp (10 ml) seasoning salt, divided
¼ cup (60 ml) crumbled blue cheese, divided
2 tbsp (30 ml) minced chives
½ tsp (2.5 ml) Worcestershire sauce
½ medium lemon, zest and juice
3 tbsp (45 ml) Louisiana-style hot sauce
1 tbsp (15 ml) butter, melted
1 tbsp (15 ml) chopped Italian parsley
Instructions
Preheat oven to 375 F (190 C)
In a large bowl, toss cauliflower with olive oil, onion and garlic powders, 1 tsp (5 ml) seasoning salt and paprika
Lay cauliflower in a single layer on a parchment-lined baking sheet and roast for 30 minutes, or until cooked through and golden brown. Keep oven on for heating flatbreads later.
While cauliflower is roasting, make a blue cheese sauce. Set half the blue cheese aside for later, then in a bowl, combine remaining blue cheese with mayonnaise, sour cream, chives, Worcestershire sauce and lemon zest and juice. Mix and adjust seasoning to taste.
In a small bowl, mix hot sauce and butter together and set aside.
Warm flatbreads in oven for 5 minutes, or until warmed through.
To assemble, spread 2 tbsp (30 ml) blue cheese sauce on each flatbread. Arrange cauliflower evenly on top. Drizzle each flatbread with hot sauce butter and remaining blue cheese sauce. Sprinkle with remaining blue cheese and parsley and serve.
Drink Pairings