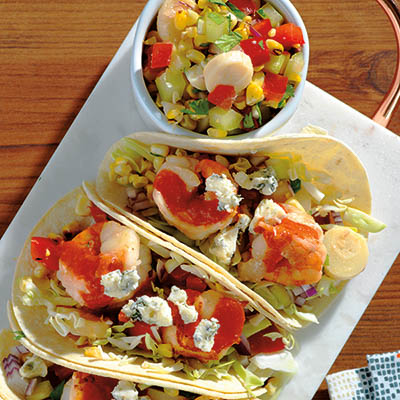 BUFFALO PRAWN TACOS WITH HEARTS OF PALM AND CORN SALSA
Ingredients
Serves 4
½ cup (125 ml) plain Greek yogurt
½ cup (125 ml) sour cream
¼ cup (60 ml) finely chopped green onions
1 tbsp (15 ml) lemon juice
2 tbsp (30 ml) salted butter
1 garlic clove, finely minced
¼ cup (60 ml) hot sauce, such as Franks or Tabasco
1 lb (500 g) large prawns, tailed, peeled and deveined
1 to 2 cups (250 to 500 ml) shredded cabbage
2 celery stalks, finely sliced
¼ cup (60 ml) finely diced red onion
¼ cup (60 ml) crumbled blue cheese
½ cup (125 ml) chopped cilantro, for garnish
HEARTS OF PALM AND CORN SALSA:
1 tbsp (15 ml) vegetable oil
1 x 14 oz (398 ml) can palm hearts, drained, cut into ¼-in (0.5 cm) rounds
½ medium red onion, finely chopped
1 red bell pepper, cored and cut into ½-in (1.25 cm) dice
2 stalks celery, cut into ½-in (1.25 cm) dice
2 large tomatoes, seeded, cut into ½-in (1.25 cm) dice
½ cup (125 ml) chopped cilantro
¼ cup (60 ml) extra-virgin olive oil
3 tbsp (45 ml) lime juice
2 tbsp (30 ml) agave syrup or honey
1 tsp (5 ml) each, ground coriander and ground cumin
½ tsp (2 ml) chili powder
Instructions
In a mixing bowl, combine yogurt, sour cream, green onions and lemon juice. Set aside.
Heat a large skillet over medium heat, add butter and garlic and sauté for 30 seconds. Combine with hot sauce. Sauté prawns in sauce until opaque and cooked through, about 4 minutes.
Soften tortillas in a non-stick skillet or place in a tea towel and microwave until warm.
Assemble tacos with layers of cabbage, celery, red onion, prawns, yogurt mixture and blue cheese. Drizzle with sauce, yogurt mixture and garnish with cilantro and Hearts of Palm and Corn Salsa. Serve immediately.
To make HEARTS OF PALM AND CORN SALSA: Shuck corn, remove husks and silk. Brush cobs with vegetable oil. Place directly over heat on medium-hot barbecue grill. Alternatively, place corn on a foil-lined baking sheet under a preheated broiler.
Rotate corn when dark blisters appear and kernels darken in colour, about 2 to 3 minutes. Grill until cobs are uniformly cooked. Remove from heat and cool. Hold cob vertically and remove kernels by cutting down the cob. Place loose kernels in a bowl and mix with palm hearts, red onion, red pepper, celery, tomatoes and cilantro.
In a small bowl, whisk together remaining ingredients until blended and pour over corn mixture. Season to taste with salt and pepper. Salsa can be prepared, covered and chilled up to 1 day in advance. Can also be served as a side salad.
Drink Pairings