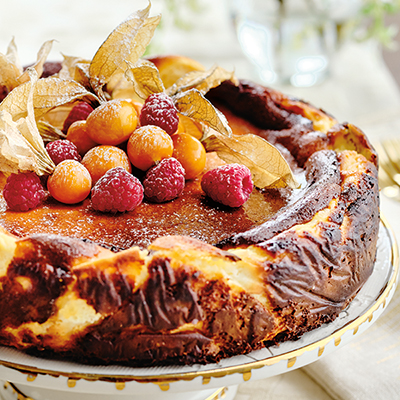 Ingredients
Serves 1 x 10-in (25 cm) cake
2 lbs (907 g) Philadelphia cream cheese, room temperature, cut into small cubes
6 large eggs, room temperature
2½ cups (625 ml) granulated sugar
1⅔ cups (400 ml) sour cream (full fat)
2 tbsp (30 ml) cornstarch
1 tsp (5 ml) pure vanilla extract
fresh seasonal berries, to serve
whipped cream, to serve (optional)
Instructions
Preheat oven to 500 F (260 C). Line base and sides of a 10-in (22 cm) springform pan with parchment paper, leaving sides extending 2-in (5 cm) above top of pan.
In a blender, combine cream cheese, eggs, sugar, sour cream, lemon zest, cornstarch, salt and vanilla. Blend until completely smooth, strain mixture through a fine mesh sieve and pour into prepared pan.
Transfer to oven and bake until cake is set around edges but still wobbly in centre, and top of cake turns a dark golden brown, about 45 to 50 minutes. Cake will rise during baking and fall when cooled. Allow to cool to room temperature, then cover and chill until firm, preferably overnight.
To serve, garnish cheesecake with fresh seasonal berries and serve with whipped cream, if desired. Leftover cake can be tightly wrapped and frozen for up to 1 month.
Drink Pairings