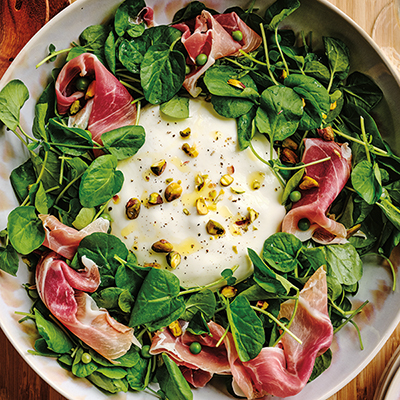 Burrata and Prosciutto Salad
Ingredients
Serves 6 to 8
6 cups (1.5 L) salad greens, such as watercress or arugula
½ cup (125 ml) fresh peas, blanched
1 tbsp (15 ml) pistachio oil
2 tbsp (30 ml) extra-virgin olive oil, divided
2 tbsp (30 ml) champagne vinegar
salt and black pepper, to taste
8 oz (500 g) burrata cheese
2 tbsp (30 ml) roughly chopped shelled pistachios
Instructions
In a bowl, dress greens and peas with pistachio oil, 1 tbsp (15 ml) olive oil, champagne vinegar and salt and pepper to taste. Transfer to a large serving bowl.
Nestle burrata in middle of greens, then arrange around with prosciutto.
Drizzle remaining olive oil over burrata, then sprinkle with pistachios and black pepper. Serve with a loaf of fresh bread.
Drink Pairings