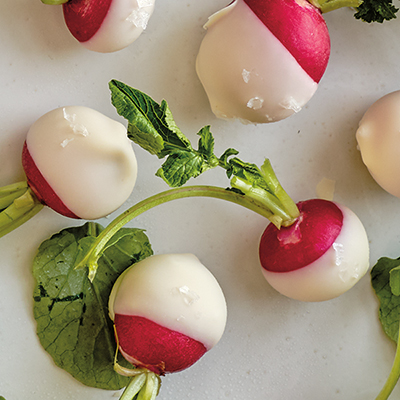 Ingredients
Serves 12
12 radishes, washed well (leave greens on)
½ cup (125 ml) cultured butter*
Instructions
Trim tails off radishes and dry thoroughly. Line a baking sheet with parchment paper.
Place butter in a small heatproof bowl that will fit over a small saucepan. Add 2-in (5 cm) water to saucepan and place bowl on top. Heat butter over low heat, whisking constantly; it should stay creamy looking. Continue until butter is the texture of sour cream, then remove from heat.
Dip bottom half of each radish in butter and set on lined baking sheet, then sprinkle each with a bit of salt. Place in refrigerator for 10 minutes to set. Any leftover butter can be used for cooking.
* Available at most grocery stores; can substitute regular salted butter.
Drink Pairings