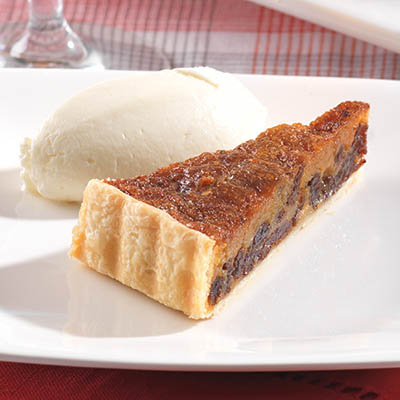 Ingredients
Serves
1 cup (250 ml) butter, chilled and cut into cubes
2½ cups (625 ml) pastry flour
¼ to ½ cup (60 to 125 ml) cold water
½ cup (125 ml) brown sugar
½ cup (125 ml) brown rice or corn syrup
2 tbsp (30 ml) butter, melted
2 tsp (10 ml) vanilla extract
2 tsp (10 ml) Canadian rye whisky
½ cup (125 ml) raisins, soaked in hot water and drained
Instructions
To make PASTRY: In a food processor blend the butter, flour, and salt until the mixture looks like coarse crumbs the size of a pea. Sprinkle with ¼ cup (60 ml) of water. Pulse until the dough sticks together when squeezed, adding up to ¼ cup (60 ml) more water if needed, 1 tbsp (5 ml) at a time. It will still look crumbly.
Form the dough into two balls, wrap with saran wrap and chill in the fridge for at least 2 hours, preferably overnight.
Roll the dough to 1¼-inch (3 cm) thickness and line the tart mould. Trim the edges and chill for 1 hour in the refrigerator.
To make FILLING: Preheat oven to 350 F (180 C).
Mix all ingredients together in a mixing bowl. Pour the filling into the tart shell and bake for 30 to 40 minutes, or until the pastry is golden brown.
Drink Pairings