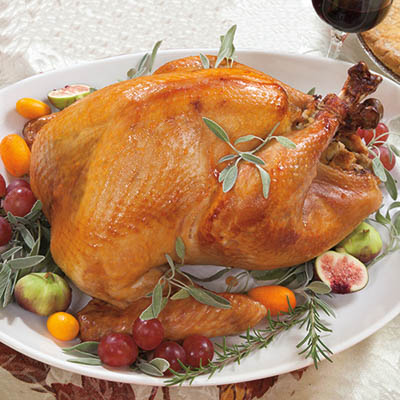 Ingredients
Serves 10
6 tbsp (90 ml) kosher salt
2 tbsp (30 ml) whole black peppercorns
10 garlic cloves, smashed
8 cups (2 L) cold buttermilk
12 to 13 lb (5.5 to 6 kg) fresh turkey, neck, heart and gizzards removed
¼ cup (60 ml) unsalted butter, at room temperature
12 oz (340 g) bag cranberries, fresh or frozen
¾ cup (175 ml) granulated sugar
3 tbsp (45 ml) butter or turkey pan drippings
3 tbsp (45 ml) all-purpose flour
3 cups (750 ml) turkey or chicken stock
salt and freshly ground pepper, to taste
Instructions
In a large stock pot big enough to hold the turkey, stir together salt, peppercorns, sage, thyme, garlic and warm water. Stir until salt dissolves. Add buttermilk and stir to combine.
Rinse turkey inside and out with cold water and carefully place in stock pot containing brine. Turkey should be fully submerged, if not, add extra cold water to cover. Cover with a lid and refrigerate for 24 hours.
When ready to cook turkey, remove from brine and discard brine. Rinse turkey inside and out with cold water and pat dry with paper towels. Trim off and discard any excess fat before trussing turkey, if desired, using kitchen twine. Place turkey, breast-side up, on a rack in a large roasting pan. Rub skin evenly with butter. Let turkey stand at room temperature for 1 hour.
Meanwhile, place oven rack in lower third of oven and preheat to 400 F (200 C).
Roast turkey for 30 minutes. Reduce oven temperature to 325 F (170 C) and continue roasting, basting every 30 minutes with pan juices. If breast begins to cook too quickly, tent it loosely with aluminum foil. After 2 hours of total roasting time, begin testing for doneness using an instant-read thermometer inserted in thickest part of breast and thigh, away from bone. Breast should register 165 F (75 C) and thigh 175 F (80 C). Total roasting time should be about 3 hours.
Transfer turkey to a carving board and let rest for 20 to 30 minutes before carving. Serve with Cranberry Gravy and thanksgiving side dishes as desired.
To make CRANBERRY GRAVY: In a saucepan, cook cranberries, sugar and water over medium heat, stirring often, until sugar is melted and cranberries burst. In a blender, in batches if necessary, purée cranberry mixture until smooth. Transfer to a bowl and set aside.
In a large saucepan melt butter over medium-low heat. Whisk in flour and cook, whisking, until lightly browned, about 3 minutes. Whisk in port and stock in a steady stream before adding cranberry mixture. Boil gravy, whisking occasionally, until reduced to about 5 cups (1.25 L), 15 to 20 minutes, and strain through a sieve into a clean saucepan. Season gravy with salt and pepper. Keep warm until ready to serve. Makes about 5 cups (1.25 L).
Drink Pairings