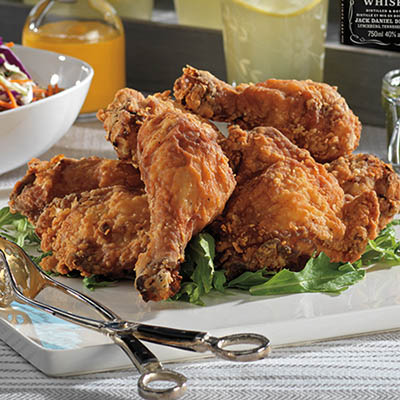 BUTTERMILK, ORANGE, AND ROSEMARY FRIED CHICKEN
Ingredients
Serves 6 to 8
1 cup (250 ml) buttermilk
1½ tsp (7 ml) cayenne pepper, divided
2 tsp (10 ml) smoked paprika
2 sprigs rosemary, leaves removed from stem and minced
3 tbsp (45 ml) kosher salt, divided
1 tbsp + 2 tsp (25 ml) black pepper, divided
6 chicken drumsticks, skin on
6 chicken thighs, skin on
1 cup (250 ml) all-purpose flour
½ cup (125 ml) cornstarch
Instructions
In a large bowl, combine buttermilk, 1 tsp (5 ml) cayenne, smoked paprika, garlic, onion, rosemary, orange zest, 2 tbsp (30 ml) salt, 1 tbsp (15 ml) black pepper and chicken. Transfer to a large Ziploc bag and refrigerate to marinate overnight, or up to 2 days.
Remove chicken from marinade and drain well. Discard bag contents. Let chicken rest at room temperature for 1 hour before frying.
Heat a deep fryer, or a large pot filled halfway with oil, to 350 F (180 C).
In a large bowl, combine flour, cornstarch, remaining salt, black pepper, and cayenne.
Dredge a piece of chicken in the flour mixture until completely coated. Dust off excess and gently place in the hot oil. Repeat with a couple more pieces of chicken. Do not add too many pieces of coated chicken at a time, or the oil temperature will reduce and cause chicken to absorb too much oil during cooking.
Fry chicken in batches, 15 to 20 minutes each, turning occasionally with a slotted spoon. Remove chicken and pierce to the bone. Chicken is done when juices run clear when pierced and internal temperature reads 165 F (75 C).
Remove chicken to a cooling rack to drain. Chicken can be eaten immediately, or cooled and refrigerated in a covered container and eaten cold at a picnic.
Drink Pairings