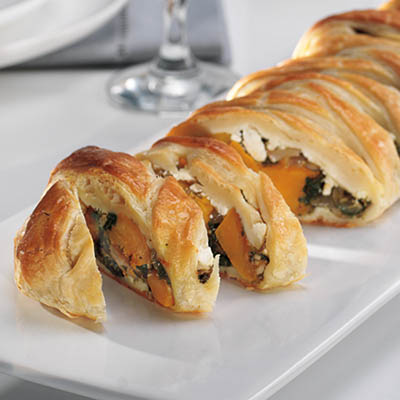 BUTTERNUT SQUASH AND MUSHROOM BRAID
Ingredients
Serves 6
4 cups (1 L) cubed butternut squash, cut into 1-in (2.5 cm) pieces
3 tbsp (45 ml) grapeseed oil, divided
salt and pepper, to taste
½ tsp (2 ml) each dried sage, dried thyme and dried oregano
½ large red onion, thinly sliced
6 oz (180 g) mixed mushrooms, trimmed and sliced
5 oz (140 g) baby spinach
all-purpose flour, for rolling
14 oz (400 g) puff pastry
¼ cup (60 ml) crumbled feta cheese
Instructions
Preheat oven to 425 F (230 C). Place a rimmed baking sheet in oven while preheating.
In a large bowl, toss butternut squash with 1 tbsp (15 ml) oil, a good pinch of salt and pepper, sage, thyme and oregano. Tumble onto hot baking sheet and bake, stirring occasionally, until squash is easily pierced with a knife, about 20 to 25 minutes. Remove and cool on baking sheet to room temperature before transferring to a large bowl.
Meanwhile, in a large frying pan, warm remaining 2 tbsp (30 ml) oil over medium heat. Add onions and sauté until just starting to soften, about 2 minutes. Add garlic and cook another minute before stirring in mushrooms and a pinch of salt. Cook mushrooms, stirring occasionally, until lightly browned, about 8 to 10 minutes. Transfer mixture to bowl along with squash and set aside.
Return frying pan to stove on mediumlow heat and add spinach and a splash of water. Cook, stirring constantly, until spinach is wilted, about 2 minutes. Transfer to a fine-meshed sieve over a bowl and drain until cool enough to handle. Squeeze out as much water as possible, then chop roughly. Add to mushroom mixture and toss to combine. Season lightly with additional salt and pepper to taste. Set aside.
Lightly flour a work surface and roll out puff pastry to form a rectangle about 10 x 13- in (25 cm x 33 cm). Transfer to a parchment-lined baking sheet. Imagine pastry divided lengthwise into thirds. Cut slits 1-in (2.5 cm) apart on long, outside edges of pastry. Keep middle strip down the centre of pastry uncut. Cut and discard corner cut slits on each corner of pastry. Spread squash filling mixture down middle of uncut portion of dough leaving about 1-in (2.5 cm) on either end. Sprinkle feta over filling. Begin at bottom end of pastry. Fold 1-in (2.5 cm) lip of dough over filling. Fold first strip of dough on right over filling at a slight angle. Fold first strip of dough on left over filling, overlapping first strip. Continue folding strips of dough from alternate sides to form a braided pattern. Once braided, fold top 1-in (2.5 cm) lip of dough over filling, tucking it under braided strips.
In a small bowl, whisk together egg and water. Brush braid with egg wash and bake until pastry is golden brown, about 25 to 30 minutes. Let cool 15 minutes. Slice and serve warm or at room temperature.
Drink Pairings