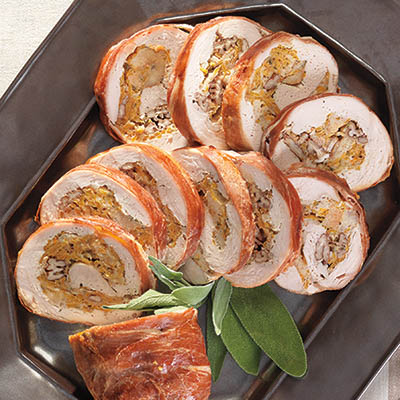 BUTTERNUT SQUASH AND PECAN-STUFFED TURKEY
Ingredients
Serves 8
2 tbsp (30 ml) grapeseed or coconut oil
¾ cup (175 ml) diced yellow onion
2 thick slices whole wheat bread, cut into ¼-in (0.5 cm) cubes
1 ⅓ cups (425 ml) grated butternut squash
⅓ cup (75 ml) pecan halves, chopped
5 oz (140 g) mozzarella cheese, cut into ¼-in (0.5 cm) cubes
1 tsp (5 ml) each finely chopped fresh thyme, sage and marjoram
¼ tsp (1 ml) ground black pepper, plus extra
2 lb (1 kg) boneless, skinless turkey breast
16 thin slices of prosciutto
Instructions
Preheat oven to 375 F (190 C). In a frying pan heat oil over medium heat. Add onion and sauté until soft, 5 minutes. Remove pan from heat and cool.
In a large bowl, whisk together egg with milk. Stir in bread and allow to sit, 5 minutes. Stir in sautéed onion, squash, pecans, cheese, thyme, sage, marjoram and pepper.
Slice turkey breast in half lengthwise, without cutting all the way through. Place a piece of plastic wrap on a clean work surface and lay turkey on top. Cover with another piece and flatten turkey with a butcher's mallet or rolling pin, into a 1⁄2-in (1 cm) thick rectangle. Discard top piece of wrap before spreading stuffing along 1 long edge. Roll up stuffing in turkey.
To wrap turkey roll in prosciutto, place a piece of tin foil longer than turkey roll on a clean work surface and lay approximately half the prosciutto slices vertically, long sides overlapping by 1⁄2-in (1 cm). Place turkey roll crosswise across prosciutto and roll up using tin foil to assist, snugly wrapping prosciutto around turkey. Lay extra prosciutto over any exposed bits. Wrap foil around turkey roll before tying with kitchen twine at even intervals. Place on rimmed baking tray, bake in centre of oven until thermometer reads 170 F (80 C) when inserted through foil into meat, 1 to 11⁄2 hours. Remove and rest pan on a cooling rack for 10 minutes. Remove foil and transfer roll to a cutting board. Cut into 3⁄4-in (2 cm) thick slices and serve with Cranberry Mostarda, if desired. Recipe follows.
Drink Pairings