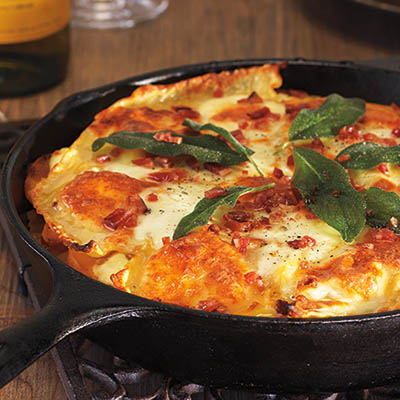 BUTTERNUT SQUASH SKILLET LASAGNA
Ingredients
Serves 6
2 lbs (1 kg) butternut squash, peeled, seeded and thinly sliced
1 large yellow onion, peeled, cut into rounds
1 tbsp (15 ml) chopped fresh sage
3 tbsp (45 ml) olive oil, divided, plus extra
1 tbsp (15 ml) pure maple syrup
1 tbsp (15 ml) apple cider vinegar
salt and pepper, to taste
4 slices double-smoked bacon
8 to 10 whole sage leaves
10 oz (300 g) goat's cheese
½ cup (125 ml) ricotta cheese
6 oz (180 g) fresh mozzarella balls, sliced
Instructions
Preheat oven to 425 F (220 C). To a large bowl, add butternut squash, onions, garlic, sage, 2 tbsp (30 ml) oil, maple syrup, vinegar and a pinch of salt and pepper. Toss to combine. Transfer to a baking sheet and spread evenly. Roast until squash browns lightly in spots, 20 to 25 minutes. Reduce oven temperature to 375 F (190 C).
While squash roasts, cook lasagna noodles in a large saucepan of salted boiling water according to package directions, until al dente. Drain, refresh under cold water and toss with remaining 1 tbsp (15 ml) oil. Set aside.
Fry bacon in large frying pan over medium heat. Cook, turning once or twice, until crisp. Transfer to paper towel-lined plate to cool, then crumble into pieces.
Carefully add sage leaves to hot bacon drippings in frying pan over medium heat. Fry for 30 seconds or until crisp. Transfer to paper towel-lined plate with bacon to drain.
In a medium-sized bowl, stir together goat's cheese, ricotta and egg. Set aside.
To assemble, lightly grease a 10-in (33 cm) cast iron frying pan, then place ⅓ of squash mixture over bottom. Top with ⅓ goat's cheese mixture, 1 strip worth of crumbled bacon and 2 lasagna noodles, breaking up a third to fit pan as necessary. Continue layering of ingredients 2 more times, ending with a layer of noodles. Cover lasagna with mozzarella slices before baking until piping hot and cheese is golden brown, about 20 to 25 minutes. Garnish with reserved crumbled bacon and fried sage. Serve hot.
Drink Pairings