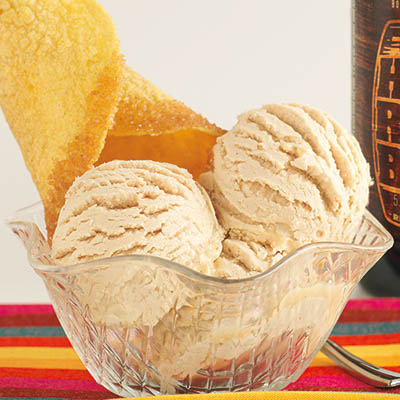 CAJETA ICE CREAM WITH TORTILLA CONE
Ingredients
Serves 8 tortilla cones
1 vanilla bean, split in half lengthwise
1 cinnamon stick, about 4-in (10 cm) long
¾ cup (175 ml) granulated sugar
½ tsp + ⅛ tsp (2.5 ml) baking soda
2 cups (500 ml) chilled whipping cream
1 tbsp (15 ml) dark rum or vanilla extract
salted popcorn, optional, for garnish
CINNAMON SUGAR TORTILLA CONES:
½ cup (125 ml) sanding sugar or turbinado sugar
1 tsp (5 ml) ground cinnamon
8 Homemade Corn Tortillas, 6-in (15 cm) each
¼ cup (60 ml) vegetable oil
2 tbsp (30 ml) clover honey
Instructions
Scrape seeds out of vanilla pod and reserve for another use. In a medium saucepan stir together vanilla pod, cinnamon stick, goat's milk, sugar, baking soda, and salt. Place over medium heat and cook, stirring occasionally with a heat-resistant spatula, until sugar dissolves and milk gets foamy, about 15 minutes.
Continue to cook at a gentle simmer, stirring and scraping down sides of saucepan very frequently until milk is thick, golden, and reduced to no more than a thin, very thick layer, about 45 minutes. Stir mixture more frequently as it thickens to prevent scorching. Cook mixture until a trail remains for 1 to 2 seconds when spatula is dragged across bottom of saucepan. Remove from heat and discard vanilla pod and cinnamon stick. If total amount of cajeta is less than 1 cup (250 ml) thin with a bit of extra goat's milk or else it will be too thick once cooled. Transfer cajeta to a large heat resistant bowl and allow to cool to room temperature. Refrigerate until ready to use.
In a large bowl, whisk whipping cream and rum together until stiff peaks form. Stir a third whipped cream into chilled cajeta until just combined. Gently fold remaining whipped cream into cajeta mixture before pouring into a 9x5-in (2 L) loaf pan. Cover with plastic wrap and freeze until firm, about 6 hours. Serve ice cream scooped into Tortilla Cones and garnish with a sprinkle of salted popcorn, if desired. Enjoy immediately.
To make CINNAMON SUGAR TORTILLA CONES: Preheat oven to 350 F (180 C). Line a baking sheet with parchment paper and set aside.
In a small bowl, whisk together sugar and cinnamon. Set aside.
Brush both sides of each tortilla with oil before rolling each into a cone shape. Secure seam with a couple of toothpicks. To ensure cone keeps it shape while baking, crinkle up some tin foil and place it inside cone. Place tortillas seam side down on baking sheet and bake for 5 minutes. Rotate cone so seam side faces up and continues baking until lightly browned and starting to crisp up, another 5 to 10 minutes. Allow cones to cool for 1 minute before removing and discarding toothpicks and foil. Cool to room temperature on a wire rack. Tortilla cones should crisp up as they cool. If still a little soft, return to oven for another 2 to 3 minutes. When cool, paint a 1-inch (2.5 cm) line around top of cone with honey. Dip honey pained portion of cone in sugar cinnamon mixture to coat. Tortilla cones are best served eaten within a couple of hours of being made.
Drink Pairings