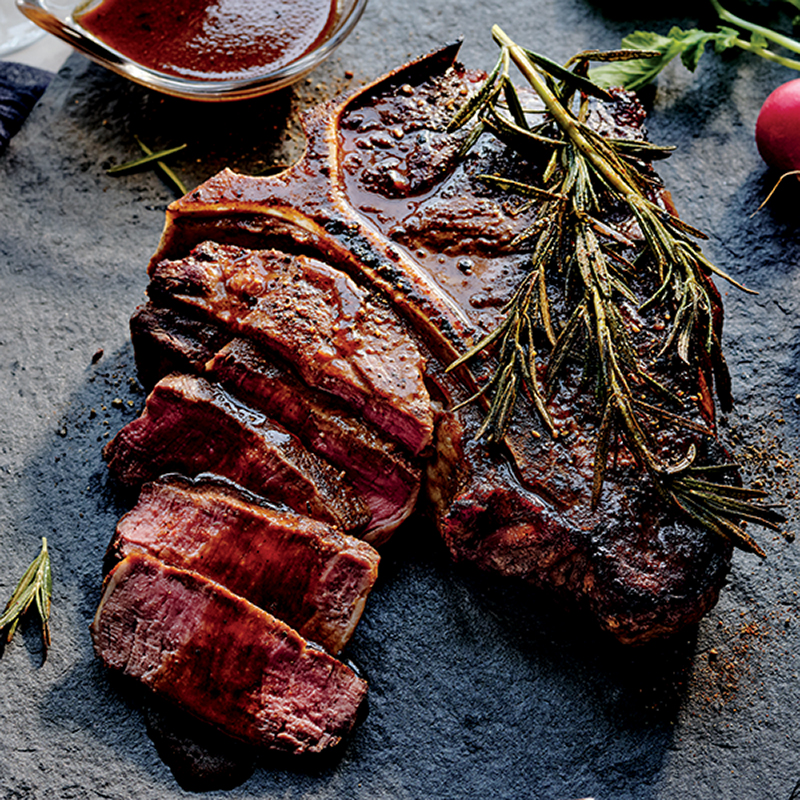 Cajun Butter-Glazed Steak served with Swiss Chard & Lentil Salad
Ingredients
Serves 4-6
2 tsp (10 ml) cayenne pepper powder
2 tsp (10 ml) chili powder
2 tsp (10 ml) ground black pepper, plus extra for seasoning
2 tsp (10 ml) ground white pepper
1 tsp (5 ml) garlic powder
2 tsp (10 ml) onion powder
2 tsp (10 ml) smoked paprika
1 tsp (5 ml) ground cumin
1 tsp (5 ml) dried thyme leaves
½ cup (125 ml) low-sodium soy sauce
⅓ cup + 2 tbsp (75 + 30 ml) grapeseed oil, divided
¼ cup (60 ml) lightly packed brown sugar
3 tbsp (45 ml) Dijon mustard, divided
3 garlic cloves, minced, divided
2 lb (1 kg) thick-cut porterhouse steak
⅓ cup (75 ml) red wine vinegar
1 tsp (5 ml) kosher salt, plus extra for seasoning
½ cup (125 ml) extra-virgin olive oil
1 shallot, finely chopped
2 cups (500 ml) no-salt-added vegetable stock
1 cup (250 ml) Puy green lentils
1 bunch red Swiss chard, leaves removed from stems, both chopped
2 tbsp (30 ml) unsalted butter, cubed
2 cups (500 ml) mixed greens, such as arugula, spinach, kale or spring greens
½ cup (125 ml) roughly chopped roasted cashews
2 to 3 radishes, thinly sliced, for garnish
Instructions
Start by making Cajun seasoning. In a small bowl, whisk together cayenne, chili, black and white peppers, garlic and onion powders, paprika, cumin and thyme. Set aside. This can be kept in an airtight container in a cool, dry place for up 6 months.
In a large glass or non-reactive baking dish, whisk together soy sauce, ⅓ cup (75 ml) grapeseed oil, brown sugar, bourbon, 1 tbsp (15 ml) Dijon mustard, 2 minced garlic cloves and 1 tbsp (15 ml) Cajun seasoning mix. Pour about ⅓ of mixture into a small bowl and set aside for use in step 7. Add steak to remaining ⅔ of mixture and let marinate, turning occasionally, for 30 minutes or up to 4 hours. If marinating for longer than 30 minutes, cover baking dish with plastic wrap and refrigerate. Before cooking steak, remove from refrigerator and let sit at room temperature for 30 minutes.
Meanwhile, make Swiss Chard & Lentil Salad. In a large bowl, whisk together vinegar, remaining 2 tbsp (30 ml) Dijon mustard and salt. Whisking constantly, slowly add olive oil until dressing is homogenous. Set aside.
In a medium saucepan, heat 1 tbsp (15 ml) grapeseed oil over medium heat. Add shallot and remaining minced garlic clove, stirring, until fragrant and shallot is beginning to soften, about 3 minutes. Stir in stock and lentils and increase heat to medium-high. Cook, stirring occasionally, until lentils begin to soften, about 6 minutes. Reduce heat to medium-low, cover and simmer until lentils are tender and liquid is mostly absorbed, about 12 minutes. Strain lentils through a fine mesh sieve and add to bowl with dressing. Gently toss warm lentils together with dressing. Wipe out saucepan and return to medium heat.
Add remaining 1 tbsp (15 ml) grapeseed oil, Swiss chard stems and a pinch of salt to saucepan. Sauté until stems are crisp-tender, about 3 minutes. Add Swiss chard greens and cook, stirring constantly, until wilted, about another 2 minutes. Transfer to bowl with lentils and set aside.
Heat a large cast iron skillet over medium-high heat. Remove steak from marinade, discarding marinade, pat steak dry with paper towel and season on both sides with salt and pepper. Add to hot skillet and cook until underside is well browned, about 6 to 10 minutes. Flip steak, lower heat to medium and cook until a meat thermometer inserted into thickest part of meat reads 130 F to 135 F (54 C to 57 C) for medium rare, about another 8 to 10 minutes. Remove from skillet and let rest for 10 minutes.
Meanwhile, pour reserved marinade into a small saucepan and bring mixture to a boil over medium-high heat. Reduce heat to medium and cook until mixture has thickened slightly, about 2 minutes. Remove from heat and whisk in butter until melted and fully incorporated
Slice steak and transfer to a platter. Brush with warm glaze. Add mixed greens to lentil mixture and toss gently to combine. Transfer to a serving dish and garnish with cashews and radishes.
Drink Pairings