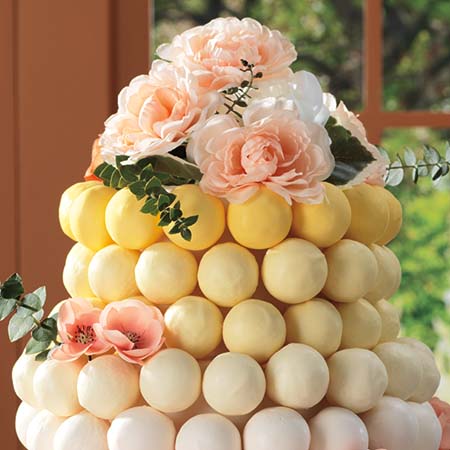 Ingredients
Serves about 171 cake pops
2½ lbs (1.125 kg) vanilla fondant, divided
1 round Styrofoam cake dummy, 5 x 4-in (13 x 10 cm)
1 round Styrofoam cake dummy, 7 x 4-in (18 x 10 cm)
1 round Styrofoam cake dummy, 9 x 4-in (23 x 10 cm)
1 x 12-in (30 cm) foil-covered cake holder
1 cup (250 ml) unsalted butter, divided, plus extra for rolling
4 x 250 g bags white regular-sized marshmallows, divided
1 tsp (5 ml) vanilla extract, divided
16 cups (4 L) crisp rice cereal, divided
8 cups (2 L) crisp rice cereal, ground into fine crumbs in a food processor, divided
10 x 3-in (25 x 8 cm) square Styrofoam cake dummy
5 lbs (2.25 kg) white chocolate melting wafers, divided
½ cup (125 ml) orange chocolate wafers
¼ cup (60 ml) lemon chocolate wafers
175 sturdy 3-in (8 cm) toothpicks
fresh flowers, for garnish
Instructions
Take ¼ of the fondant and gently knead with your hands to make it pliable. Roll out on a countertop, lightly dusted with icing sugar, into a round large enough to wrap top and sides of 5-in (13 cm) Styrofoam round. Brush top edge and bottom sides of Styrofoam with some of the gel to hold fondant in place when applied. Gently lay fondant over top and lightly press top and sides to Styrofoam being careful not to tear it. Trim off the excess. Set aside.
Taking half of the remaining fondant, repeat as above, rolling fondant into a round large enough to cover the 7-in (18 cm) Styrofoam round. Set aside.
Knead remaining fondant and repeat as above, rolling into a round large enough to fully cover the 9-in (23 cm) Styrofoam round. Place on a 12-in (30 cm) foil-covered round cake holder. Brush a little gel on top of 9-in (23 cm) and 7-in (18 cm) rounds and stack cakes together creating a 3-tiered cake. Cover and store in a cool, but non-humid room until ready to apply Cake Pops. Can be made ahead and stored for a couple of days.
Each Cake Pop is 1½-in (3 m) in diameter. For the bottom tier you will need about 72 cake pops; for the middle tier about 54 cake pops; and for the small tier you will need about 45 cake pops. Each tier will hold 3 rows of cake pops.
Make Cake Pop mixture in two batches. Melt ½ cup (125 ml) butter in a very large saucepan. Stir in two 250 g bags of marshmallows and cook, stirring continually over medium heat, until melted. Remove from heat and stir in half the vanilla and 8 cups (2 L) rice cereal. Stir together using a large wooden spoon until blended. Sprinkle with 4 cups (1 L) ground rice cereal and stir in until evenly distributed.
Lightly grease palms with extra melted butter. Roll mixture into 1½-in (3 cm) balls and place in a foil pan. When all mixture has been rolled into balls, cover and place in freezer. Repeat process, making second batch of Cake Pops from remaining ingredients. Cover and freeze until ready to coat with chocolate. You should have a total of 171 Cake Pops. They can be made ahead and frozen for a couple of weeks.
To coat Cake Pops, clear a space in your freezer for the Styrofoam square. Place a bowl over a saucepan with water. Bring water to a boil then reduce to simmer. Make sure bottom of bowl doesn't touch the water. Add 2½ cups (625 ml) white chocolate wafers and stir until melted. Stir in orange chocolate wafers, adding just enough to achieve desired peach colour.
Take some Cake Pops from the freezer. Poke with a toothpick and dip into melted chocolate to fully coat. Hold over bowl until it ceases to drip. Dip 24 balls in peach-coloured chocolate and press toothpicks into Styrofoam square. Place in freezer to firm, about 5 minutes.
Repeat dipping Pops with a second coating of chocolate to make them smooth. Freeze until they are firm enough to press toothpicks into Cake Tiers without smudging chocolate. Press the first 24 peach-coloured chocolate dipped Cake Pops evenly around the very bottom of the largest fondant-covered tier. Repeat with another row of 24 Cake Pops, adding more white chocolate to the bowl, lightening the colour of the rows as you build. Continue double-dipping Cake Pops, freezing and pressing into cake tiers. As you near the top of the second tier, gradually add some yellow chocolate wafers to the melted chocolate.
When cake is fully assembled, lightly drape in plastic wrap and store at room temperature overnight. To display and serve, transfer to a cake platter and garnish with fresh flowers.
Drink Pairings