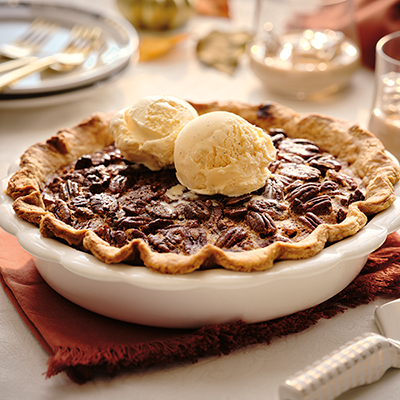 Canadian Whisky Maple Pecan Pie
Ingredients
Serves 1 Pie
½ cup (125 ml) corn syrup
½ cup (125 ml) maple syrup
¼ cup (60 ml) Canadian whisky
½ cup (125 ml) lightly packed golden sugar
½ tsp (2.5 ml) vanilla extract
2 cups (500 ml) pecan pieces
1 standard-sized, pre-made bottom pie crust
vanilla ice cream or whipped cream, to serve
Instructions
Preheat oven to 350 F (180 C).
In a mixing bowl, whisk together eggs, corn syrup, maple syrup, whisky, sugar, salt and vanilla until fully combined.
Place pecans in pie crust, then pour egg mixture over. Let settle, then bake for 50 to 60 minutes, until set; filling will have puffed up and will settle once cool. If crust is browning too quickly, cover with foil.
Remove from oven and let cool completely before serving. Serve with vanilla ice cream or whipped cream.
Drink Pairings