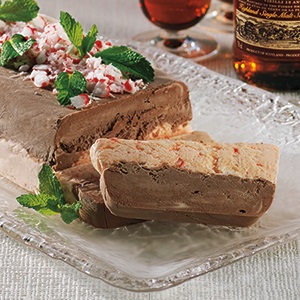 CANDY CANE AND DARK CHOCOLATE SEMIFREDDO
Ingredients
Serves 16
6 oz (180 g) dark chocolate, coarsely chopped
3 tbsp (45 ml) unsalted butter
¾ cup (175 ml) granulated sugar
2 cups (500 ml) whipping cream
4 oz (125 g) mascarpone, room temperature
1 tsp (5 ml) peppermint extract (optional)
PEPPERMINT CANDY CANE SEMIFREDDO:
1½ cups (375 ml) whipping cream
½ cup (125 ml) coarsely crushed peppermint candy canes, plus more for garnish
½ cup (125 ml) granulated sugar
¼ cup (60 ml) mint liqueur or 1 tsp (5 ml) peppermint liqueur
Instructions
Spray two 9 x 5-in (2 L) loaf pans with cooking oil and line with plastic wrap with a slight overhang.
To make Dark Chocolate Semifreddo, melt chocolate in a double boiler, making sure top pan does not touch simmering water. Remove just before fully melted and stir until smooth. Set aside to cool slightly.
In a mixing bowl, beat egg whites and sugar with an electric beater until stiff peaks form. Set aside.
In a chilled mixing bowl, whip cream and mascarpone with an electric beater until smooth.
Gently fold chocolate mixture into stiff egg whites until blended. Then, gently fold in whipped-cream mixture. Divide mixture and pour each half into prepared loaf pans. Freeze for at least an hour.
Meanwhile, make peppermint layer. In a chilled mixing bowl, whip cream until stiff peaks form. Fold in ½ cup (125 ml) crushed candy cane. Cover and chill until ready to use.
Prepare an ice water bath by placing a medium-sized bowl into a larger bowl with ice and water. Set aside. In a double broiler, whisk egg yolks and 3 tbsp (45 ml) sugar until thick and foamy, about 5 to 7 minutes. Make sure top pan is not touching simmering water. While beating slowly, add the mint liqueur or peppermint extract. Then whisk vigorously for another 2 to 3 minutes. Transfer mixture to bowl over ice bath and whisk until cool.
In another mixing bowl, whisk egg white and remaining sugar until sugar is dissolved and mixture is warm to the touch, about 2 to 3 minutes. Then beat with electric beater until stiff and glossy peaks form.
Gently fold egg-white mixture into egg-yolk mixture a third at a time. Fold in whipped-cream mixture. Divide and spoon mixture on top of the frozen Dark Chocolate Semifreddo. Cover with plastic wrap and freeze until firm, at least 4 to 5 hours.
Remove Candy Cane and Dark Chocolate Semifreddo from freezer and set aside for 5 minutes to soften slightly. Turn onto a board and remove plastic wrap. Garnish with crushed candy canes. Cut into slices, place on chilled serving plates and serve.
Drink Pairings