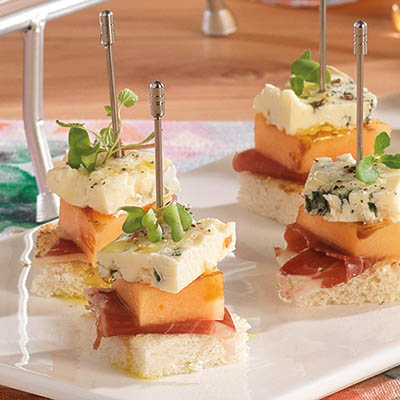 CANTALOUPE AND HAM PINTXOS
Ingredients
Serves 16 Pintxos
grape seed oil, to grease grill
½ cantaloupe, peeled, seeded and cut into 1-in (2.5 cm) wide wedges
4 thick, square slices sourdough bread, toasted, crusts removed and quartered into squares
8 slices serrano ham or prosciutto, halved lengthwise
3 oz (90 g) blue cheese, cut into 16 pieces
extra-virgin olive oil, for garnish
freshly ground black pepper, for garnish
Instructions
Lightly oil grill or grill pan with grape seed oil before preheating over high heat.
Grill cantaloupe wedges until well marked, about 2 to 3 minutes per side. Transfer to a cutting board and cut into 1-in (2.5 cm) chunks.
To assemble, place squares of toasted sourdough on a serving platter. Top each with a piece of ham, a couple pieces of grilled cantaloupe and blue cheese. Use small skewers or toothpicks to secure in place. Garnish with a drizzle of olive oil and a dusting of black pepper.
Drink Pairings