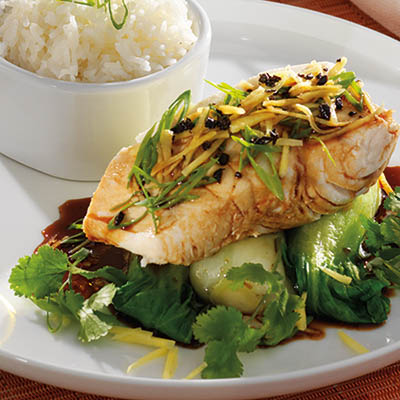 CANTONESE-STYLE HALIBUT WITH SOY, GINGER AND GREEN ONION
Ingredients
Serves 4 as part of a multi-course meal
2 lbs (1 kg) halibut fillets
3 tsp (15 ml) salt, divided
½ tsp (2 ml) Chinese dried fermented black beans, rinsed, dried and minced
1 x 1-in (2.5 cm) piece fresh ginger root, lightly smashed
2 whole green onions, cut into thirds
2 tbsp (30 ml) peanut oil
4 tsp (20 ml) granulated sugar, divided
2 tbsp (30 ml) Chinese white rice wine, or dry sherry
3 tbsp (45 ml) light soy sauce
1 tbsp (15 ml) dry sherry
2 tbsp (30 ml) fresh ginger root, peeled finely julienned, for garnish
2 green onions, finely julienned, for garnish
8 sprigs cilantro, for garnish
3 tbsp (45 ml) vegetable or peanut oil
Instructions
Thoroughly rinse fillets, drain and pat dry. Mix together 1 tsp (5 ml) salt and minced black beans and gently rub over and under fillets. Using a fish poacher or a saucepan large enough to hold fish, add about 1½-in (3.75 cm) cold water (about 2 to 3 L).
Add torn cilantro, ginger, garlic, green onions, peanut oil, remaining 2 tsp (10 ml) salt, 2 tsp (10 ml) sugar and rice wine. Bring to a boil. When poaching liquid is at a rapid boil, add fillets, cover and return to a boil. Cook for 1 minute, covered, then reduce heat to low. Simmer for 5 minutes. Turn off heat and allow fish to rest for a further 4 minutes, covered. To test for doneness, poke thickest part of fish with a fork or chopstick. Fish should flake easily. Many prefer fish slightly underdone, to keep flesh moist and succulent. If you prefer a well-done fillet, allow them to simmer for another 2 minutes, covered. Over-cooking will toughen the fish.
Carefully remove fillets from saucepan, drain well and transfer to a warm serving platter. In a small saucepan, heat together soy sauce, 2 tsp (10 ml) sugar and sherry. Pour over fillets and garnish with ginger, green onion and cilantro sprigs. Heat vegetable or peanut oil over high heat until hot but not smoking. Carefully pour hot oil over fillets and serve immediately.
Drink Pairings