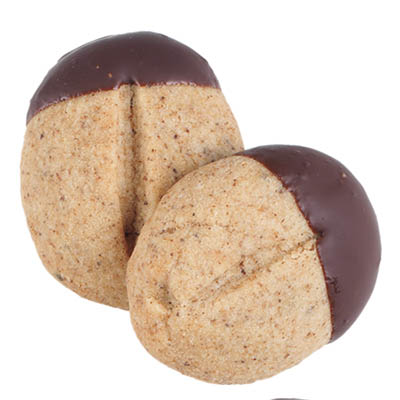 CAPPUCCINO SHORTBREAD WITH CHOCOLATE
Ingredients
Serves 36 cookies
4 tsp (20 ml) instant coffee
1 cup (250 ml) butter, softened
1¾ cups (425 ml) all-purpose flour
¼ lb (125 g) semi-sweet chocolate
Instructions
Preheat oven to 325 F (160 C). Grind instant coffee finely in a mortar and pestle. With an electric mixer, beat butter, sugar and coffee together until fluffy. Add vanilla. Slowly beat in dry ingredients and mix until well incorporated.
Using about 1 tbsp (15 ml) sized dollop, form between palms of both hands into bean shapes. Place on a parchment-lined baking sheet and score lightly down the back of each cookie with a thick knife edge. Bake for about 15 minutes, or until edges just start to brown. Remove and allow to cool on a rack.
Melt chocolate and dip end of cookie. Place on a cookie sheet lined with wax paper and set in the freezer for about 5 minutes to set the chocolate.
Drink Pairings