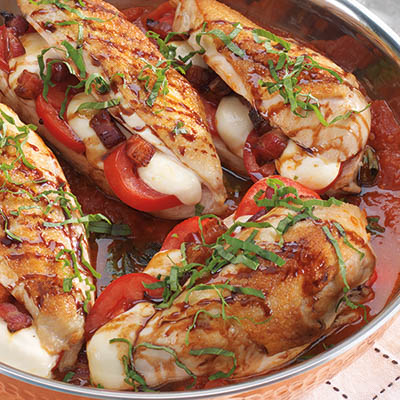 CAPRESE STUFFED CHICKEN WITH PANCETTA
Ingredients
Serves 4
2 tbsp (30 ml) olive oil, divided
5 oz (140 g) pancetta, diced
4 large chicken breasts, boneless and skin-on, pounded to even thickness
2 garlic cloves, thinly sliced
½ tsp (2 ml) red pepper chili flakes
1 x 28 oz (794 g) can whole plum tomatoes
¼ cup (60 ml) chopped fresh basil, plus extra for garnish
4 to 5 small plum tomatoes, sliced
8 oz (250 g) bocconcini, cut into ¼-in (0.5 cm) thick slices
balsamic reduction, to serve
Instructions
Preheat oven to 400 F (200 C).
In a large ovenproof skillet, heat 1 tbsp (15 ml) olive oil over medium-high heat. Add pancetta and cook, stirring frequently, until browned. Use a slotted spoon to transfer to a paper-towel lined plate.
Season chicken with salt and pepper, add to skillet, skin side down. Sear, turning occasionally, until well browned on all sides, about 10 minutes. Transfer to a large plate.
To skillet, add remaining olive oil, garlic and chili flakes. Sauté 1 minute, stir in canned tomatoes and basil. Cook, breaking up tomatoes with a spatula, until sauce thickens, about 10 minutes.
Return chicken to skillet. Transfer skillet to oven and cook, uncovered, until chicken is no longer pink, about 10 minutes. Remove chicken and carefully butterfly cut through breasts, lengthwise.
Inside cut, layer tomatoes and bocconcini, overlapping, and sprinkle with reserved pancetta. Return to skillet with sauce. Return skillet to oven and bake until cheese is melted. Garnish with extra chopped basil and serve with balsamic reduction.
Drink Pairings