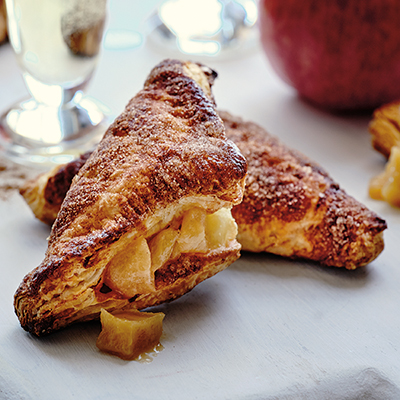 Caramelized Apple Hand Pies
Ingredients
Serves 8 pies
¼ cup (60 ml) unsalted butter
½ cup + 3 tbsp (125 + 45 ml) granulated sugar, divided
2 lbs (907 g) Golden Delicious apples, peeled, cored and cut into ¾-in (2 cm) cubes (about 6 apples)
⅓ cup (75 ml) whipping cream
1 tsp (5 ml) pure vanilla extract
1 tsp (5 ml) freshly squeezed lemon juice
1 x 1 lb (454 g) ready-made puff pastry sheet, thawed if frozen
Instructions
In a large sauté pan, melt butter over medium heat. Sprinkle in ¼ cup (60 ml) sugar and stir to combine and soften sugar, about 2 minutes. Add apples, toss to coat in butter mixture and increase heat to medium-high. Sauté, flipping occasionally, until apples release their juice, about 5 minutes. Continue cooking until apples caramelize and are very tender, another 5 to 7 minutes. Add another ¼ cup (60 ml) sugar and toss to quickly combine. Add cream and simmer until sauce thickens slightly, about 2 minutes. Remove from heat and stir in vanilla, lemon juice and salt. Set aside and let cool.
Preheat oven to 425 F (220 C). Line a large baking sheet with parchment paper. On a clean work surface, roll puff pastry into an approximate 24-in (61 cm) square. Using a sharp knife, cut dough into 8 equal squares. Brush edges of dough with beaten egg, reserving leftover egg for next step. Mound 2 generous tablespoons (30 ml) apple filling in centre of each square. Fold dough in half on the diagonal and crimp edges with a fork to seal.
Carefully transfer pies to lined baking sheet and lightly brush tops with beaten egg. In a small bowl combine remaining 3 tbsp (45 ml) granulated sugar and cinnamon. Cut 2 small slits on top of each pie and sprinkle with cinnamon sugar. Bake until golden and crispy, 20 to 25 minutes. Allow to cool slightly before serving; pies are best eaten day they are made but will keep for 1 day at room temperature in an airtight container.
Drink Pairings