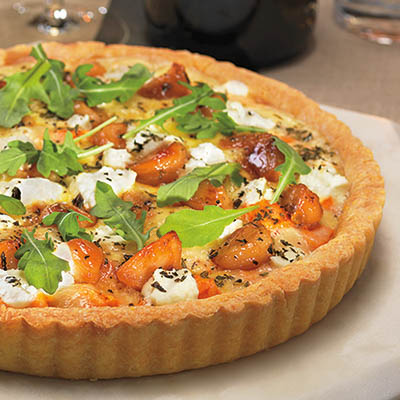 CARAMELIZED GARLIC AND YAM TART
Ingredients
Serves 8
1 cup (250 ml) all-purpose flour
1 tbsp (15 ml) granulated sugar
⅓ cup (75 ml) unsalted butter, chilled and diced
25 large garlic cloves, peeled
2 tbsp (30 ml) unsalted butter
1 tbsp (15 ml) each maple syrup and cider vinegar
⅓ cup (75 ml) full fat Greek plain yogurt
¾ cup (175 ml) aged white cheddar
⅓ cup (75 ml) chopped garlic scapes (optional)
⅓ x 100 g package plain goat's cheese, crumbled
2 tsp (10 ml) finely chopped fresh thyme
salt and freshly ground black pepper
Instructions
To make PASTRY: Place flour, cornmeal, sugar and salt in a food processor fitted with a metal blade. Pulse to blend. Add diced butter and pulse until crumbly. Whisk egg yolks and ice water together. With motor running, add egg mixture through feed tube until mixture just begins to hold together. Turn out onto a clean work surface and shape into a 5-in (12 cm) disk. Wrap in plastic wrap and refrigerate until slightly firm.
Preheat oven to 350 F (180 C). Line baking sheet with parchment paper and set aside.
To make FILLING: Peel yam and cut into ½-in (1.25 cm) dice. Toss in a small bowl with oil and spread out on prepared baking sheet in a single layer. Bake in oven for 10 to 15 minutes or just until fork-tender but not soft. Remove baking sheet to a cooling rack and set aside. Keep oven temperature at 350 F (180 C).
Place garlic cloves and a few tablespoons water in a small saucepan. Simmer over medium-low heat until almost tender, about 20 minutes. Add butter and increase heat to medium, cooking until water has evaporated and garlic starts to brown. Add maple syrup and cider vinegar. Simmer over medium- low heat for 5 minutes or until most liquid has evaporated and cloves are glazed. Stir often. Remove from heat and set aside.
Roll out pastry on a lightly floured work surface into an 11-in (28 cm) circle. Transfer pastry into a 9-in (23 cm) tart pan with removable sides and tuck pastry into pan, folding excess pastry inside tart to make a nice thick rim. Line bottom of pastry with parchment paper and fill with dried beans or pastry weights. Bake in oven for 10 minutes. Turn out dried beans reserving for another use and remove paper lining from pastry. Return pastry shell to oven and continue baking for 15 more minutes or until crust is firm and golden. Remove from oven and keep oven temperature at 350 F (180 C).
Arrange diced yam evenly over bottom of tart shell. Combine eggs, yogurt and grated cheddar in a bowl. Stir to blend. Evenly spoon mixture over yams, spreading lightly. Scatter with garlic scapes, if using. Tuck caramelized garlic throughout top of tart and scatter with crumbled goat's cheese and fresh thyme. Sprinkle with a few pinches of salt and pepper. Place on a baking sheet and bake in oven for 20 to 25 minutes or until firm.
Remove and serve warm or at room temperature with a crisp salad.
Drink Pairings