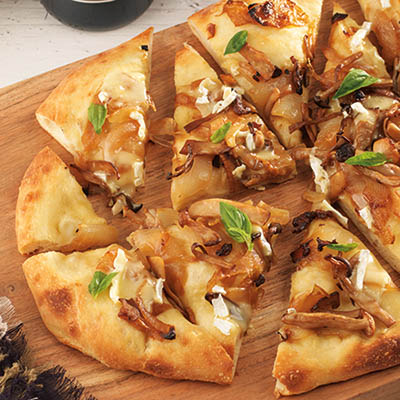 CARAMELIZED ONION, MUSHROOM AND BRIE FLATBREAD
Ingredients
Serves 4 to 6 (makes 1 flatbread)
DOUGH: (can use store bought dough)
¾ cups (175 ml) warm water
1 package (2¼ tsp) dry yeast
2 tbsp (15 ml) extra-virgin olive oil
2 cups (500 ml) all-purpose flour
2 tbsp (30 ml) extra-virgin olive oil, divided
½ tsp (2 ml) salt, divided
½ cup (125 ml) mixed wild and cultivated mushrooms, sliced
salt and freshly ground pepper, to taste
3 oz (90 g) brie cheese, sliced
1 tsp (5 ml) chives, finely sliced, for garni
Instructions
To make DOUGH: In bowl of a standard mixer, mix water, sugar and yeast, and let sit for 5 minutes. Add oil, salt and flour and mix with dough hook attachment on low speed until combined. Continue mixing for another 10 minutes, or until dough is smooth and elastic and pulls away from sides of bowl.
Grease a separate bowl with vegetable oil, place dough into bowl and coat it with oil. Cover with plastic wrap or a towel and let it rise overnight in fridge. Dough can be made up to 2 days in advance.
To make TOPPINGS: In a frying pan, cook onions over low heat with half the oil and half the salt. Cook, stirring occasionally, until deeply caramelized, about 30 to 45 minutes. If pan starts to brown too much (looks as if it will burn soon), add about 1 tsp (5 ml) water. Set aside and clean pan.
In a frying pan, sauté mushrooms and garlic over medium-high heat with remaining oil and salt until cooked through, about 5 minutes.
Preheat oven to 375 F (190 C) and line baking sheet with parchment paper.
On a lightly floured surface, stretch and press prepared dough into an oblong shape with your hands (do not use a rolling pin) until it is about ½-in (1.25 cm) thick. Transfer to prepared baking sheet. Top dough with caramelized onions and mushrooms. Season to taste with salt and pepper.
Bake for about 15 minutes, or until crust is golden brown and cooked all the way through. Remove from oven and immediately top with sliced brie. The heat of the flatbread will melt brie. Garnish with chives.
Drink Pairings