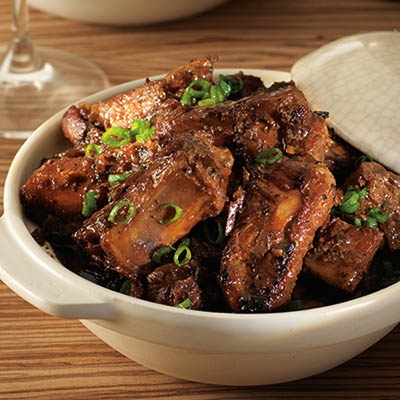 Ingredients
Serves 4 as part of a multi-course meal
1 lb (500 g) light brown palm sugar (or yellow sugar)
1¼ cups (300 ml) fish sauce
3 lbs (750 g) pork spareribs, cut crosswise through bone into 2-in (5 cm) strips
½ large yellow onion, finely chopped
1 tbsp (15 ml) minced, peeled ginger root or galangal root
1 tbsp (15 ml) granulated sugar
1 tsp (5 ml) coarse black pepper
6 tbsp (90 ml) fish sauce, divided
6 tbsp (90 ml) Caramel Sauce
3 green onions, trimmed, finely chopped
Instructions
To make CARAMEL SAUCE: Add palm sugar to a medium-sized heavy saucepan and gently melt over medium-low heat, stirring frequently, about 10 to 12 minutes.
When completely melted and lump free and just starting to boil, remove from heat and slowly stir in fish sauce. Be careful as it will bubble furiously. Use right away or cool and transfer to an airtight container. Store in a cool area for up to 3 months. Makes about 2 cups (500 ml).
To make pork, cut each 2-in (5 cm) strip of rib between bones or cartilage forming individual riblets. Transfer riblets to a large bowl and mix in onion, ginger, sugar, black pepper and half the fish sauce. Toss to coat well. Cover with plastic wrap and refrigerate at least 2 hours or overnight.
About 1 hour before cooking, remove bowl from refrigerator. Turn on oven broiler. Place riblets on a foillined baking sheet lightly sprayed with cooking spray. Place under broiler and cook about 8 minutes on each side, or until lightly charred.
Transfer seared riblets with any reserved marinade and cooking juices into a large Dutch oven. Add remaining fish sauce, 6 tbsp (90 ml) Caramel Sauce, and enough water to almost cover. Bring to a boil over medium-high heat. Reduce heat to simmer, cover and cook for 45 minutes. Uncover and adjust heat to simmer vigorously. Cook about 20 more minutes, or until riblets are fork-tender.
Remove from heat and let stand for a few minutes to let fat rise, then skim off as much as possible. Return to a simmer and season to taste. Transfer to serving bowl and garnish with green onions.
Drink Pairings