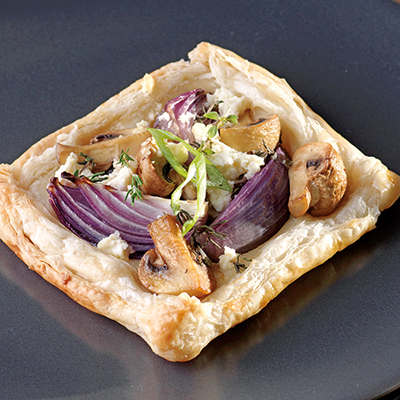 CARAMELIZED RED ONION TART
Ingredients
Serves 4 (makes 8 tarts)
2 large red onions cut into 1-in (2.5 cm) thick wedges
1 lb (500 g) mixed mushrooms, cut into large 1-in (2.5 cm) chunks
1 tsp (5 ml) chopped fresh thyme
salt and pepper, to taste
2 sheets frozen packaged puff pastry, thawed according to package directions
1 cup (250 ml) crumbled feta cheese
1 large egg mixed with 1 tbsp (15 ml) water, beaten together
thyme sprigs and sliced green onions, for garnish
Instructions
Preheat oven to 400 F (200 C).
Place onion wedges on a foil-lined baking sheet. Drizzle and toss to coat with olive oil. Place into oven and bake for 10 minutes or until softened and lightly browned.
Melt butter in a wide, heavy-bottomed skillet over medium-high heat. When it starts to sizzle, add mushrooms and sauté, stirring occasionally, until soft and liquid evaporates, about 10 minutes. Add garlic, thyme and cayenne. Sauté until fragrant, about 1 minute. Season with salt and pepper.
ine 2 baking sheets with parchment paper. Unfold thawed sheets of puff pastry, cut into 5-in (12 cm) squares and place evenly spaced on baking sheets. Fold each square ½-in (1.25 cm) inwards along edge, overlapping at corners, to form a border.
Arrange onions and mushrooms on pastry squares, keeping filling within edges and top with crumbled feta. Brush edges of pastry with egg wash. Bake until pastry is golden, about 20 to 25 minutes. Remove from oven and cool slightly. Garnish with fresh thyme sprigs and green onions.
Drink Pairings