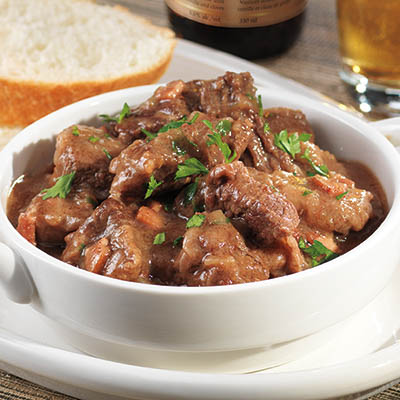 Ingredients
Serves 4 to 6
2½ lbs (1.25 kg) beef chuck, cut into 2 x ½-in (5 x 0.5 cm) pieces
salt and freshly ground pepper
⅓ cup (75 ml) all-purpose flour
6 tbsp (90 ml) butter, divided
5 bacon slices, finely chopped
6 garlic cloves, finely chopped
3 medium cooking onions, thinly sliced lengthwise
1 bottle (330 ml) Belgian-style ale, divided
1½ cups (375 ml) beef stock
3 tbsp (45 ml) dark brown sugar
3 tbsp (45 ml) apple cider vinegar
1 handful, chopped flat leaf parsley
crusty baguette, for serving
Instructions
In a large mixing bowl, season beef with salt and pepper. Add flour and toss to coat. In a large Dutch oven over mediumhigh heat, heat 3 tbsp (45 ml) butter.
Working in batches, add beef, cooking and turning, until browned, about 6 to 8 minutes. Transfer to a plate; set aside.
Cook bacon until fat renders, about 6 to 8 minutes. Reduce heat to medium and add remaining butter, garlic and onions. Cook, stirring occasionally until onions are caramelized, about 30 minutes. Add half the beer, cook, scraping bottom, until liquid is slightly reduced, about 3 minutes.
Return beef to Dutch oven. Add remaining beer, beef stock, sugar, vinegar and herbs except for parsley. Season. Bring to a boil and reduce heat to medium-low. Cook, covered, until beef is fork-tender, about 1½ hours. Stir in parsley and serve with a warm crusty baguette.
Drink Pairings