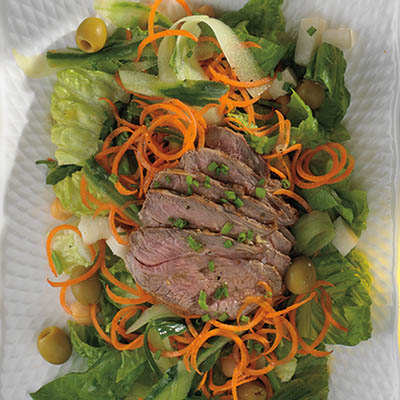 CARROT, CUCUMBER AND JICAMA SALAD WITH SMOKY GRILLED LAMB
Ingredients
Serves 4
2 lbs (1 kg) well-trimmed boneless leg of lamb, cut into 3 equal pieces
2 tbsp + ¼ cup (90 ml) olive oil, divided
1 tbsp (15 ml) ground cumin, divided
salt and pepper, to taste
3 tbsp (45 ml) rice wine vinegar
1 tsp (5 ml) liquid clover honey
¼ tsp (1 ml) dry mustard powder
4 cups (1 L) roughly chopped romaine lettuce
2 large carrots, peeled and cut into long julienne curls with a spiralizer
1 unpeeled English cucumber, cut into ribbons with a vegetable peeler
2 cups (500 ml) peeled and diced jicama
2 cups (500 ml) cooked chickpeas
¾ cup (175 ml) pitted green olives, cut in half
2 tbsp (30 ml) finely chopped fresh chives
⅓ cup (75 ml) fresh cilantro leaves
Instructions
Preheat barbecue grill to medium-high.
Rub lamb with 2 tbsp (30 ml) oil and season with 2 tsp (10 ml) cumin, salt and pepper. Let sit at room temperature for 10 to 15 minutes.
Meanwhile, in a medium-sized bowl, whisk together remaining 1 tsp (5 ml) cumin, vinegar, honey and mustard powder. Slowly incorporate remaining ¼ cup (60 ml) oil until dressing is well combined. Season to taste with salt and pepper. Set aside.
Grill lamb, turning frequently, for 25 to 30 minutes, or until nicely charred and an instant-read thermometer inserted into thickest part registers 135 F (57 C) for medium-rare. Transfer lamb to a carving board to rest for 10 minutes.
In a large bowl toss together romaine, carrots, cucumber, jicama, chickpeas and olives. Drizzle with dressing and toss again to coat salad. Transfer salad to a platter. Thinly slice lamb and arrange overlapping slices on salad. Garnish with chives and cilantro before serving.
Drink Pairings