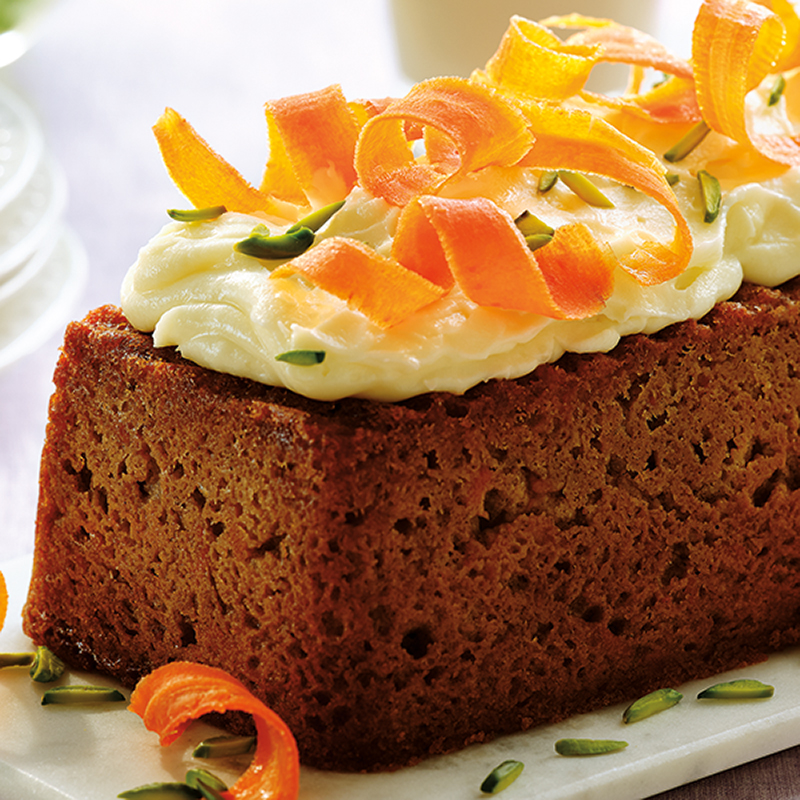 Carrot Cake with Cream Cheese Icing & Candied Carrot Curls
Ingredients
Serves 6
½ cup (125 ml) lightly packed brown sugar
½ cup (125 ml) white sugar
1 cup (250 ml) vegetable oil
2 cups (500 ml) grated carrot
½ tsp (2.5 ml) orange zest
1½ cups (375 ml) all-purpose flour
2 tsp (10 ml) baking powder
1 tsp (5 ml) ground cinnamon
½ tsp (2.5 ml) ground allspice
½ tsp (2.5 ml) ground ginger
½ tsp (2.5 ml) kosher salt
Cream Cheese Icing, recipe follows
1 x 8 oz (250 g) block cream cheese, softened
½ cup (125 ml) unsalted butter, softened
3 cups (750 ml) icing sugar, sifted
½ tsp (2.5 ml) orange zest
1 tsp (5 ml) orange juice
Candied Carrot Curls, recipe follows, for garnish
Raw, slivered pistachios, for garnish
Instructions
Grease an 8½ x 4½-in (21.5 x 11.5 cm) loaf pan. Preheat oven to 325 F (170C).
In a mixing bowl, whisk together sugars, oil and eggs until light and creamy. Fold in carrot and orange zest.
In a separate bowl, sift together dry ingredients. Add wet ingredients and fold together until combined.
Transfer to oven and bake for 45 minutes to 1 hour, or until a skewer inserted into centre of cake comes out clean.
Remove from oven and let cake cool completely, then remove from pan. Frost with Cream Cheese Icing and garnish with pistachios and Candied Carrot Curls. Makes one 8½ x 4½-in (21.5 x 11.5 cm) loaf cake
TO MAKE CREAM CHEESE ICING: In a large bowl, using a mixer or wooden spoon, cream the cream cheese and butter together until light and fluffy. Gradually add icing sugar, mixing well between each addition. Add salt, orange zest and juice and mix until combined. Makes enough for 1 loaf cake.
TO MAKE CANDIED CARROT CURLS: Using a vegetable peeler, peel long strips off carrots, aiming to keep as many pieces intact as possible. In a medium saucepan, bring sugar and water to a boil over medium-high heat. Add carrots and return to a simmer, then reduce heat to low and simmer for 15 to 20 minutes, or until carrots are tender. Preheat oven to 250 F (130 C). Line a baking sheet with parchment paper. Remove carrots from syrup and gently drain, being careful not to break the strips. Lay strips in a single layer on lined baking sheet. Transfer to oven and bake for 30 minutes. Meanwhile, gather clean items from kitchen that have cylindrical handles of various sizes, such as wooden spoons, a whisk and/or a saucepan handle. Remove carrots from oven and immediately and carefully wrap them around handles to create curls. Let carrots cool around handle, then carefully remove them.
Drink Pairings