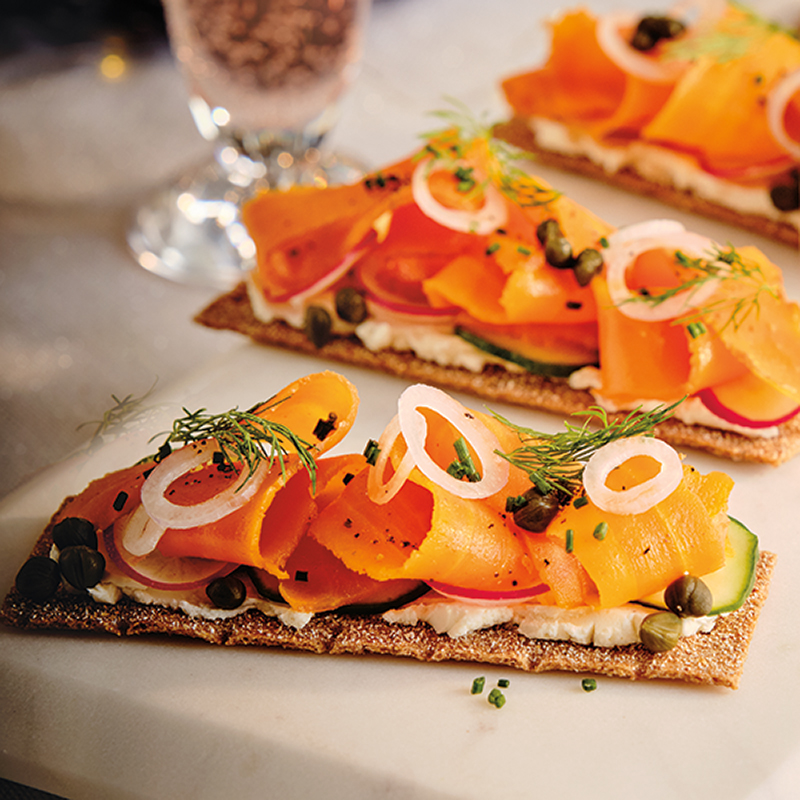 CARROT "LOX" ON CRISPBREAD
Be the toast of the town this New Year's by throwing a gathering full of inspired bites that are not only delicious, but also easy to whip together as well. All that will be left is to pop a bottle of Champagne and toast to the New Year.
Ingredients
Serves Makes about 12
4 large carrots, unpeeled
kosher salt, for roasting
3 tbsp (45 ml) extra-virgin olive oil
1 tbsp (15 ml) rice vinegar
½ tsp (2.5 ml) smoked paprika
1 tbsp (15 ml) fresh lemon juice
1 tsp (5 ml) chopped fresh dill, plus extra for garnish
1 pinch freshly ground black pepper
rye crispbread or crackers, to serve
¾ cup (175 ml) cream cheese, to serve
¼ English cucumber, thinly sliced, for garnish
2 radishes, trimmed and thinly sliced, for garnish
2 tbsp (30 ml) capers, drained and rinsed, for garnish
1 shallot, thinly sliced, for garnish
chopped chives and fresh dill, for garnish
Instructions
Preheat oven to 450 F (230 C).
Line an 8-in (20 cm) baking dish with parchment paper. Coat bottom with about a ¼-in (0.5 cm) layer of salt, then place whole carrots in dish. Sprinkle more salt over carrots to almost cover. Roast carrots in salt crust until easily pierced with a fork, but not mushy. Exact timing will depend on size and freshness of carrots. Check them, starting around 40 minutes. Larger carrots may take up to 60 minutes or more. Remove from oven, remove carrots from salt crust and place on a plate, allowing to cool to room temperature.
While carrots cool, make marinade. In a shallow dish or medium bowl, whisk together olive oil, rice vinegar, paprika, lemon juice, dill and a good pinch of ground black pepper.
Once cooled, use hands to rub off any excess salt. Working with 1 carrot at a time, use a knife to slice off a thin strip of carrot skin, then use a peeler to peel carrot into ribbons. Place strips in marinade and toss to coat. Repeat with remaining carrots.
When ready to serve, assemble the open-faced sandwiches with a crispbread, a slather of cream cheese, a few cucumber and radish slices. Top with some carrot ribbons, a few capers, a couple of slices of shallot and a sprinkle of chives and dill. Transfer to a platter and serve. Any extra carrots can be stored for up to 4 days in marinade, refrigerated in an airtight container.
Drink Pairings