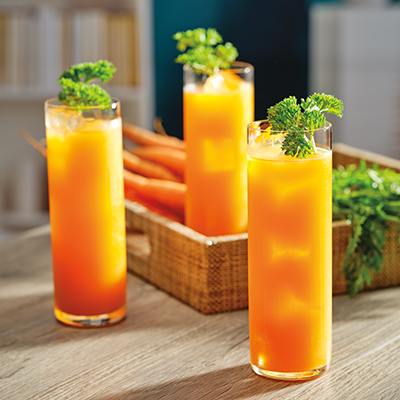 CARROT, MARMALADE & GINGER COLLINS
Ingredients
Serves
1½ oz (45 ml) Tanqueray No. Ten Gin
1½ oz (45 ml) carrot juice
1 tbsp (15 ml) Orange Marmalade *
1 tsp (5 ml) freshly grated ginger
2 oz (60 ml) sparkling apple juice
parsley sprig, for garnish (optional)
* ORANGE MARMALADE (or store bought):
1 medium navel orange (with thin peel)
Wash orange thoroughly. Cut off both ends, halve orange and cut each half into 8 sections. Using a food processor, pulse orange sections until peel is in tiny pieces. In a medium saucepan, combine processed orange, water and sugar. Bring to a gentle boil over medium-high heat for 15 minutes, stirring often, until thickened. Allow to cool slightly, then transfer to a sterilized glass jar with a lid and store in refrigerator for up to 1 month.
Instructions
In a cocktail shaker with ice, combine gin, carrot juice, marmalade, ginger and lemon juice. Gently shake and strain into a Collins glass over cubed ice. Top with sparkling apple juice and garnish with a sprig of parsley to make it look like a carrot, if desired.
Featuring