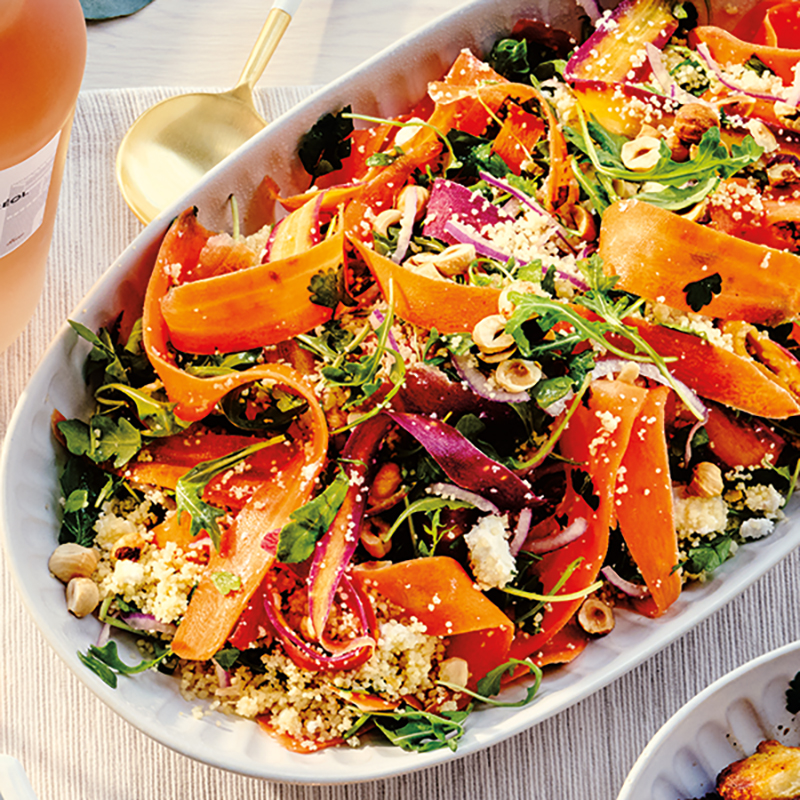 Carrot Ribbon Salad
Light and Fresh Easter.
Ingredients
Serves 4
3 large carrots, peeled into ribbons
¼ red onion, thinly sliced
1 tsp (5 ml) salt, plus more to taste
½ tbsp (7.5 ml) maple syrup
½ tbsp (7.5 ml) red wine vinegar
½ tbsp (7.5 ml) Dijon mustard
3 cups (750 ml) cooked couscous
1 cup (250 ml) chopped parsley, leaves only
½ cup (125 ml) crumbled goat's cheese
½ cup (125 ml) chopped hazelnuts, toasted
Instructions
In a large mixing bowl, add carrots, red onion and 1 tsp (5 ml) salt. Mix and set aside for 15 minutes. Rinse under cold water to remove salt and place on a paper towel. Set aside to dry.
Clean out mixing bowl, then add garlic, maple syrup, red wine vinegar, Dijon, lemon juice and olive oil. Mix to combine. Add carrots and onion back into bowl. Add couscous, parsley, arugula, goat's cheese and hazelnuts. Toss to coat in dressing and season with salt and pepper to taste.
Drink Pairings