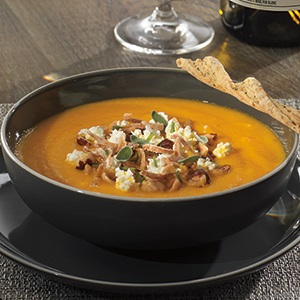 CARROT SOUP WITH CRISPY ONIONS, FETA CHEESE AND TOASTED HAZELNUTS
Ingredients
Serves 4
½ cup (125 ml) vegetable oil
½ large yellow cooking onion, thinly sliced
3 tbsp (45 ml) cornstarch
1 lb (500 g) carrots, peeled and sliced, about 4 cups (1 L)
½ large yellow cooking onion, chopped
3 garlic cloves, peeled and chopped
3 tbsp (45 ml) extra-virgin olive oil
1 tsp (5 ml) freshly ground black pepper
3 cups (750 ml) vegetable stock or water
1 tsp (5 ml) champagne vinegar
tbsp (60 ml) Crispy Onions for garnish
4 tbsp (60 ml) Macedonian feta cheese, crumbled
2 tbsp (30 ml) hazelnuts, toasted and crushed
Instructions
To make Crispy Onions, preheat vegetable oil in a medium-sized heavy saucepan until it reads to 300 F (150 C) on a candy thermometer.
In a bowl, toss together onions and cornstarch until onions are evenly coated, shaking off the excess cornstarch. Fry in hot oil, stirring constantly until onions are golden brown, about 3 minutes. Remove from heat and drain onions on a paper towellined plate. Set aside while preparing soup.
To make Soup, combine carrots, onion, garlic and olive oil in a large, heavy-bottomed saucepan. Sauté over medium heat until softened. Add salt, pepper and vegetable stock and bring to a boil. Cover and simmer for about 30 minutes, or until carrots are very tender.
Purée soup using an immersion blender or place in a blender in batches. Do not overfill blender or lid may pop off while blending. Once puréed, add the champagne vinegar and blend until smooth.
Spoon into bowls and sprinkle Crispy Onions, feta and hazelnuts over soup.
Drink Pairings