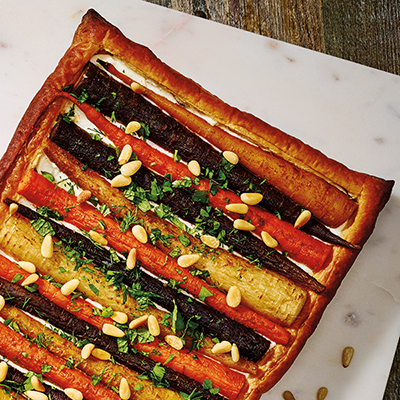 Ingredients
Serves 8
14 oz (400 g) all-butter puff pastry
1 lb (500 g) multi-coloured carrots, scrubbed, sliced lengthwise in half
1 tsp (5 ml) ground cumin
½ tsp (2.5 ml) ground coriander
½ tsp (2.5 ml) smoked paprika
1 tbsp (15 ml) clover honey
salt and pepper, to taste
4 oz (125 g) ricotta cheese
2 tbsp (30 ml) toasted pine nuts, for garnish
chopped dill, mint and parsley, for garnish
Instructions
Place oven racks in top and bottom third of oven. Preheat oven to 425 F (220 C).
On a lightly floured surface, roll and trim puff pastry into an 8-in x 12-in (20 cm x 30 cm) rectangle. Using a paring knife, lightly score a border around perimeter of puff pastry about ¼-in (0.5 cm) away from edges. Place puff pastry on a parchment-lined baking sheet and prick pastry inside border using a fork to prevent puffing in centre. Bake on top rack until puff pastry is lightly golden, about 10 to 12 minutes. Remove from oven and let cool slightly.
Meanwhile, toss carrots with cumin, coriander, paprika, honey and oil, season generously with salt and pepper and spread in a single layer on a baking sheet. Roast carrots on bottom rack, below puff pastry, until edges are golden and carrots are still tender-crisp, about 15 to 20 minutes.
While puff pastry and carrots are baking, in a food processor fitted with steel blade attachment, blend together ricotta, feta and garlic until smooth. Season to taste with salt and pepper.
Spread cheese mixture onto puff pastry up to border and arrange carrots in a single layer on top. Bake until carrots are tender and edges of cheese mixture are golden brown, about 15 to 20 minutes. Let tart sit at room temperature for 20 minutes once out of oven.
Sprinkle with pine nuts and herbs before cutting and serving.
Drink Pairings