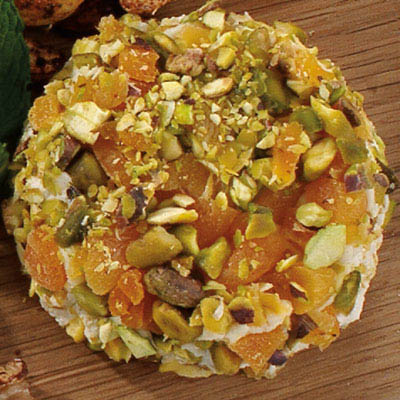 CASHEW "CHEESE" WITH DRIED FRUIT AND PISTACHIOS
Ingredients
Serves 4
1 tbsp (15 ml) warm water
½ tbsp (7 ml) agar-agar flakes
1 cup (250 ml) raw cashews, soaked overnight
1 tbsp (15 ml) miso paste
1 tbsp (15 ml) nutritional yeast
4 tbsp (60 ml) vegan cream cheese
salt and pepper, to taste
2 tbsp (30 ml) pistachios, chopped
2 tbsp (30 ml) dried apricots, chopped
Instructions
In a small bowl, mix warm water with agar-agar until dissolved. Set aside.
In a skillet over medium heat, warm oil. Add shallots and garlic and sauté until soft. In a high-powered blender, add sautéed shallots and garlic, drained soaked cashews, miso paste, nutritional yeast, vegan cream cheese and dissolved agar-agar water mixture. Blend until smooth. Add salt and pepper to taste.
Line 2 small ramekins or bowls with plastic wrap. Divide chopped pistachios and chopped apricots between ramekins. Pour cashew cheese into ramekins, but do not stir. Place in fridge and allow to set for 8 hours or overnight. When ready to serve, flip cashew cheese upside down into a serving dish and remove plastic wrap. Serve with baguette or crackers. Can be refrigerated for up to 3 days.
Drink Pairings