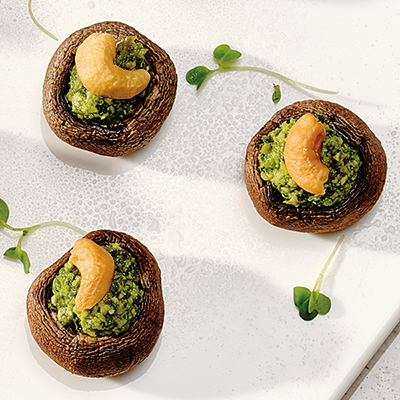 Cashew Pesto-Stuffed Mushrooms
Ingredients
Serves 10
15 to 20 small cremini mushrooms
½ cup (125 ml) raw cashews, soaked overnight and drained
1 cup (250 ml) packed fresh basil leaves
½ cup (125 ml) grated Parmesan
¼ cup (60 ml) olive oil, plus extra as needed
salt and pepper, to taste
¼ cup (60 ml) roasted cashews, for garnish (optional)
Instructions
Preheat oven to 375 F (190 C). Line a baking sheet with parchment paper.
Gently clean mushroom caps with a damp cloth to remove any dirt. Remove stems and place caps upside down on lined baking sheet.
In a food processor, pulse drained cashews until the size of rice. Add basil, garlic, Parmesan and lemon juice and process on medium speed, slowly streaming in olive oil until combined. Add more olive oil, 1 tsp (5 ml) at a time if necessary, but pesto should be quite firm and thick; if too runny, it will seep out while baking. Season pesto with salt and pepper.
Using a small spoon, fill each mushroom cap with about 1 tsp (5 ml) pesto. Refrigerate until ready to serve.
Bake for 15 to 20 minutes, or until mushrooms are soft. Serve warm.
Garnish with a roasted cashew.
Drink Pairings