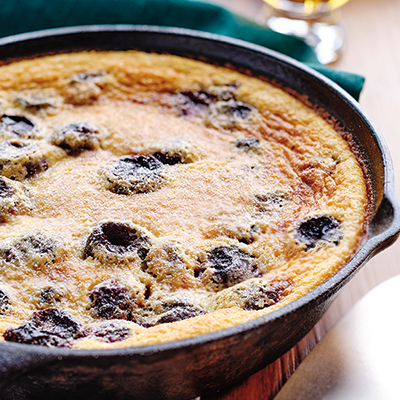 CAST IRON CHERRY CLAFOUTIS
Ingredients
Serves 4 to 6
1 tbsp (15 ml) butter, for greasing
1 tsp (5 ml) pure vanilla extract
2/3 cup (150 ml) granulated sugar
1/3 cup (75 ml) all-purpose flour
¾ cup (175 ml) whipping cream
¾ cup (175 ml) whole milk
1 tsp (5 ml) finely grated orange zest
2 tbsp (30 ml) Grand Marnier
1¼ lbs (625 g) fresh cherries, stemmed, pitted and halved
lightly whipped cream or crème fraîche, for serving (optional)
Instructions
Preheat grill to medium. Add butter to an 8-in (20 cm) cast iron skillet and place on grill to melt butter. Remove from grill and swirl pan to coat bottom.
In a blender carafe, bowl of a large food processor, or by hand, combine vanilla, eggs, sugar, flour, salt, cream, milk, orange zest and Grand Marnier. Blend until smooth. Pour batter into preheated skillet and immediately arrange cherries on top
Place skillet back on grill. With barbecue lid closed, bake until batter puffs up around cherries and turns golden brown, about 30 minutes. Transfer skillet to a rack to cool for 10 minutes, then dust with icing sugar. Serve warm, with whipped cream or crème fraîche, if desired.
Drink Pairings