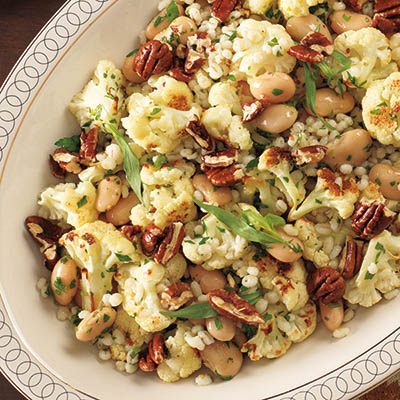 CAULIFLOWER AND HERBED BARLEY SALAD
Ingredients
Serves 4
6 tbsp (90 ml) olive oil, divided
salt and freshly ground pepper, to taste
½ cup (125 ml) pearled barley
3 tbsp (45 ml) lemon juice or unseasoned rice wine vinegar
1 tsp (5 ml) grainy mustard
1 tsp (5 ml) Dijon mustard
1 × 15 oz (425 g) can butter beans, rinsed and drained
½ cup (125 ml) flat leaf parsley, divided
2 tbsp (30 ml) tarragon leaves, div
1 tbsp (15 ml) minced chives
⅓ cup (75 ml) roughly chopped toasted pecans
Instructions
Preheat oven to 350 F (180 C).
Toss cauliflower with 1 tbsp (15 ml) oil and spread out in a single layer on a baking sheet. Season with salt and pepper. Roast, turning with a spatula halfway through, until florets are golden brown and slightly crisp on outside, about 30 minutes.
Place barley and water in a large saucepan. Season with a pinch of salt. Bring to a boil over medium-high heat and cook until tender, 25 to 30 minutes. Drain and set aside.
Meanwhile, in a medium bowl, whisk together lemon zest and juice, mustards and remaining 5 tbsp (75 ml) oil until emulsified. Season dressing with salt and pepper to taste.
When ready to serve, in a large bowl combine warm cauliflower and barley, beans, ¼ cup (60 ml) parsley, 1 tbsp (15 ml) tarragon, chives and half the dressing. Toss to combine and season to taste with salt and pepper. Divide salad among warmed bowls or a large serving bowl and drizzle with remaining dressing. Garnish with remaining ¼ cup (60 ml) parsley, 1 tbsp (15 ml) tarragon and toasted pecans. Serve while warm.
Drink Pairings