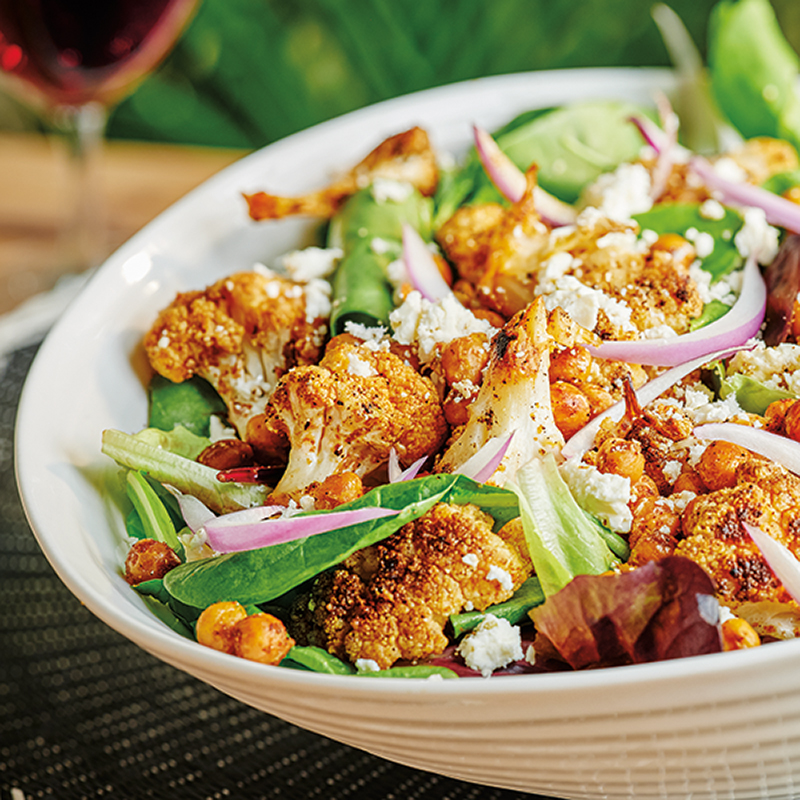 CAULIFLOWER CHICKPEA SALAD
Ingredients
Serves 2 as a main or 4 as a side
7 garlic cloves, minced, divided
½ cup (60 ml) olive oil, divided
1 to 2 tbsp (15 to 30 ml) water
salt and pepper, to taste
1 tbsp (15 ml) onion powder
1 small cauliflower, separated into florets
1 x 19 oz (540 ml) can chickpeas, rinsed and drained
4 cups (1 L) mixed greens
½ cup (125 ml) crumbled feta
Instructions
Preheat oven to 425 F (220 C).
To make dressing, in a blender, add 3 minced garlic cloves, parsley, cilantro, capers, jalapeño, honey, lemon juice, ¼ cup (60 ml) olive oil and 1 tbsp (15 ml) water (more if needed). Blend on high until smooth. Season to taste with salt and pepper. Set aside.
In a small bowl, combine onion powder, cumin, paprika, coriander, remaining 4 minced garlic cloves, salt, pepper and remaining ¼ cup (60 ml) olive oil. Set aside.
In a large bowl, place cauliflower florets. Pour half the spice mixture over cauliflower and toss to coat. Add to a parchment-lined baking sheet and bake until golden brown, 15 to 20 minutes. In the same bowl cauliflower was in, add chickpeas and remaining spice mixture. Toss to coat and pour onto lined baking sheet. Place in oven with cauliflower and cook for 20 minutes. Remove and allow to cool slightly before making salad.
In a large serving bowl, layer mixed greens, cauliflower, chickpeas and feta. Drizzle with dressing and serve immediately.
Drink Pairings